It's hard to know just how many more games Torey Krug will play for the Boston Bruins. He'll be there when the team plays their round-robin against the other top teams in the Eastern Conference to determine playoffs seeding. He'll be there in that first-round matchup with whoever comes out of the qualification games. But after that, there's no guarantee he ever suits up for the black-and-gold again. Krug's contract will expire at the end of the season and with a salary cap that will stay exactly where it is, re-signing him might be a challenge for the Bruins.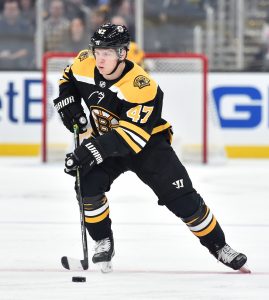 Krug understands those challenges and when he spoke with reporters yesterday including Fluto Shinzawa of The Athletic (subscription required) he explained that he doesn't know any more than the fans who want to keep him:
I don't really know what's going to happen. I'm just trying to take it day by day and worry about the playoffs right now. I'll have to probably prepare for free agency. Then we'll see what happens there. In terms of what's going on with the Bruins and everything else, that's probably a question for someone else.
There's no doubt that Krug would love to stay in Boston, he has expressed that multiple times in the past. But as he heads into free agency as one of the best available defensemen—perhaps the best if Alex Pietrangelo re-signs with the St. Louis Blues—preparing is the only prudent option.
The Bruins do have some room to play with when it comes to next year's salary cap. They currently have just over $63.5MM committed to 18 roster players (and David Backes' retained $1.5MM), but there are some other contracts needing fresh ink. Jake DeBrusk is one of the team's restricted free agents that will need a new deal, plus captain Zdeno Chara if he wants to play another year.
There is also the question of what will happen in net beyond 2020-21, when Tuukka Rask and Jaroslav Halak are both scheduled to become unrestricted free agents and will be in their mid-thirties. The Bruins have some promising young goaltending prospects, but will they be ready to take on a large role and save the team some money?
Players on expiring contracts will become free agents on the later of October 9th or seven days after the Stanley Cup is awarded. That doesn't leave a ton of time to get an extension in place if the two sides don't negotiate during the playoffs. Still, losing Krug would be a hefty blow even with some young players pushing for more playing time.
The 29-year old has now recorded seven consecutive seasons with at least 39 points, an impressive accomplishment in a league that has such turnover among point-producing defensemen. He's been a constant on the Bruins powerplay during that entire stretch, tallying 136 of his 270 total assists with the man-advantage. It's the playoffs though where he has perhaps been even more impressive, recording 46 points in 62 career games. He even led the field with 16 assists during last year's Stanley Cup Finals run.
Krug will get at least a few more games to prove he can do it again for the Bruins in the playoffs. But beyond that, nothing is clear.