July 1st is typically filled with hundreds of millions committed to contracts signed in the early hours of free agency.  However, this is no ordinary year and as a result, the UFA market is on hold for a while yet with the Stanley Cup on pace to be awarded sometime in October with the official offseason expected to start in November.  So instead of there being plenty of new deals to talk about, let's take a look back at the free agent frenzy from recent years.  Last up in our series is 2019 with 2017 and 2018 being covered earlier in the week.
The previous two openings of the free agent period featured a lot of prominent re-signings without a big flurry of notable players heading elsewhere; there were a few but only a few.  That changed last summer as several significant players opted to head for new teams.
For the purpose of this exercise, we're limiting our scope to the deals handed out on July 1st itself which means players like Jake Gardiner and Marcus Johansson who were in the top-15 of our UFA list but signed later are not considered here.
Key Re-Signings
Anders Lee (NYI) – 7 years, $49MM – While not the biggest point producer, Lee had 104 goals to his name over the past three seasons which helped him garner considerable interest around the league but his focus was staying in New York and remaining as their captain.  His numbers this season weren't terrible but he was at his lowest goal-per-game pace since 2015-16 when the pandemic hit while he was hovering around a 50-point pace as well.  They need more than that from Lee to get good value on this deal.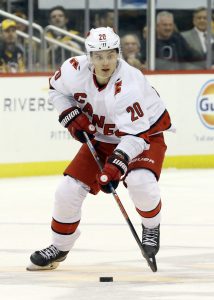 Sebastian Aho (CAR) – 5 years, $42.27MM – Okay, technically, this wasn't a re-signing as the Canadiens tendered him an offer sheet to get to this point.  But it may as well have been as the potential compensation to the Hurricanes wasn't enough to give them any pause to match it.  While being more of a playmaker early in his career, Aho showed his scoring touch more often this season, finishing tied for sixth in the league in that department while averaging nearly a point per game.  He looks like he'll live up to the deal without any issue but this contract does take him to UFA eligibility while he's in the prime of his career and by the time he hits the open market, the current salary cap concerns should largely be mitigated.
Timo Meier (SJ) – 4 years, $24MM – This one makes it on here for the structure of the deal.  The fourth and final season of the contract carries a $10MM salary which then represents his required qualifying offer in June of 2023 which, given the new salary cap picture, looks potentially even more worrisome.  Meier's performance this year was lower than 2018-19 but that's something that could be said for just about everyone in San Jose.  He should provide some value on his current $6MM AAV but that qualifying offer already looms large.
Top AAV Free Agent Signings
(Players changing teams)
Artemi Panarin (NYR) – 7 years, $81.5MM – Everyone knew Panarin was heading for a big payday and yet this deal still raised some eyebrows as it made him the highest-paid winger in NHL history.  Accordingly, at no point will this be viewed as a bargain contract but he lived up to it this season, finishing tied for third in team scoring with 95 points and was only behind Edmonton's Connor McDavid and Leon Draisaitl in assists with 63.  That's pretty good company to be in.
Sergei Bobrovsky (FLA) – 7 years, $70MM – He was handed the richest deal ever given to a goalie on the open market (Carey Price's contract with Montreal was an early extension, not a free agent deal) and the results were anything but pretty.  Bobrovsky struggled pretty much all season long and posted a GAA of 3.23 and a .900 SV%, numbers that aren't good for a backup let alone a starter.  His contract means he'll be afforded plenty of opportunities to turn things around but this could be a real problem down the road.
Matt Duchene (NSH) – 7 years, $56MM – His offensive struggles with Columbus after being acquired from Ottawa wound up being a precursor to this season as things did not go well for him this season.  His 13 goals were the lowest of his career while 42 points in 66 games is not the type of production that an $8MM price tag should yield.  The Predators have done plenty to add to their center depth in recent years with the addition of Duchene, Kyle Turris, and Nick Bonino.  Despite all of the money invested in them, it's still a weak spot.
Joe Pavelski (DAL) – 3 years, $21MM – It came as a bit of a shock that he was willing to leave San Jose after 14 seasons with the team but getting three guaranteed years just 10 days before turning 35 was pretty good on his end.  Unfortunately, the Stars haven't got much of a reward for that deal just yet as Pavelski turned in basically the worst offensive season of his career in 2019-20 with just 14 goals and 17 assists in 67 games.  There was a risk that he wouldn't be a top line player by the time the deal was done but not many expected that to happen within the first few months of the contract.
Ones To Forget
Tyler Myers (VAN) – 5 years, $30MM – For all of the flak he takes, Myers has carved out a solid 11-year career so far.  But $6MM for a player that is best used as a fourth defender or lower isn't a great deal, nor was the five-year term that takes him into his mid-30s.  His point per game average (0.31) was his lowest since his age-22 season in Buffalo in 2012-13.  It's an overpay in both money and term and that's not an ideal combination.
Mats Zuccarello (MIN) – 5 years, $30MM – Over the last four years, Zuccarello had reached the 50-point mark three times and played at a 68-point pace in the one he didn't get there due to injury.  That made him seem like a relatively safe bet on the open market as someone that could come in and provide Minnesota with some consistent production from the second line.  It didn't happen this season, however, as he had just 15 goals and 22 assists in 65 games while seeing his ice time drop from nearly 20 minutes a night the year before to not even 16 per game in 2019-20.
Anton Stralman (FLA) – 3 years, $16.5MM – While Stralman was brought in to provide some much-needed stability to Florida's defense (which he did), this was still a hefty price to pay for a veteran boost on the second pairing.  The Panthers found themselves in cost-cutting mode towards the end of the season and a big part of that was this deal along with Bobrovsky's.  The shorter term makes this a little more palatable but it's still a big overpayment in terms of AAV.
Wayne Simmonds (NJ) – 1 year, $5MM – After a tough showing in 2018-19 including a poor performance in Nashville, Simmonds opted for a pillow contract with the hopes of cashing in this coming offseason instead.  It's safe to say that's not going to happen.  The veteran struggled mightily on a bad New Jersey team and didn't look much better in Buffalo either where the Devils had to retain half of the remainder of the contract simply to get a 2021 fifth-round pick.
Bargains
Tyler Ennis (OTT) – 1 year, $800K – After having a minimal role with Toronto the year before, Ennis signed with the Senators in the hopes of getting more of an opportunity to play in an offensive role and he responded with 33 points in 61 games before being moved to Calgary at the trade deadline.  He was relatively productive with the Flames as well.  Overall, getting 16 goals and 21 assists for just over the league minimum in a shortened season is one of the better UFA bargains in recent years.
Joakim Ryan (LA) – 1 year, $725K – After playing a limited role in San Jose, Ryan sought a bigger opportunity when he signed with the Kings.  He certainly got that as his average ice time went up by more than six minutes a game while he wound up being voted as the team's best defenseman and Unsung Hero.  While that is partially an indictment on how much Los Angeles struggled this season, it's also a sign that Ryan has taken a step forward in his development.  To get that for barely over the minimum was a nice piece of business by GM Rob Blake even if it went under the radar.
Jason Spezza (TOR) – 1 year, $700K – No, Spezza isn't the player he was in his prime but his true value on the open market was for more than the minimum salary.  However, he wanted to play in his hometown which the Maple Leafs used to their advantage.  To his credit, while his ice time dipped considerably (from 13:16 per game to 10:50), his point per game average was actually higher than his final two seasons in Dallas while he was once again strong at the faceoff dot.  Playing at a 35-point pace from the fourth line is something a lot of players can't do, let alone ones at the absolute bottom of the salary scale.
Photo courtesy of USA Today Sports Images.