The St. Louis Blues have become the target of much speculation over the last week, after issuing extensions to Sammy Blais, Mackenzie MacEachern and most notably, Marco Scandella. The latter deal ate up another $3.275MM of cap space on the back end for each of the next four years, precious real estate for a team with arguably the top pending UFA. Alex Pietrangelo, the Blues captain, and best defenseman is up for a new contract.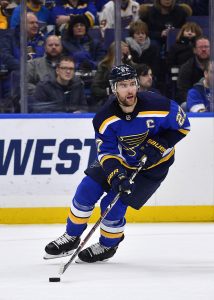 Over the weekend Jeremy Rutherford of The Athletic wrote about a $9MM-per-season ask that may have to come down thanks to the stagnant cap and today Elliotte Friedman of Sportsnet gave some similar thoughts on the radio:
I don't think there has been a lot of dialogue on this one this year. I think there has been on again and off again negotiations. I believe that the Blues made it clear they were willing to go around [Oliver] Ekman-Larsson. Ekman-Larsson is $8.25×8, and I believe the Blues are willing to go a little bit higher because he's their guy, he's their captain, they won the Cup and everything. But I don't believe they were willing to go into the [$9MM/year range] or anything more than that and that's where they were stuck at this particular point in time.
It is important to remember some of the moves that Blues GM Doug Armstrong has made in the past with key players. At the 2017 trade deadline Armstrong traded away pending free agent Kevin Shattenkirk despite the Blues sitting in a playoff spot. They would eventually finish with 99 points and advance to the second round, only to lose to the Nashville Predators in six games (scoring just 11 goals in the series). Even though Shattenkirk was an absolutely integral part of the Blues at that point—his 42 points through the first 61 games trailed only Vladimir Tarasenko for the team lead—it was clear he was not going to sign a long-term deal before testing free agency. Armstrong bit the bullet and traded away a franchise star for futures.
In 2018 is was much the same story for the Blues. As the trade deadline approached, St. Louis was in the midst of a season-long seven-game losing streak, but still just within a few points of a playoff position. They were obviously still a strong club, but it didn't seem to be their year (that would come soon enough). When the Winnipeg Jets came calling, Armstrong decided to trade off another star player that wouldn't be re-signing. Paul Stastny, who sat fourth on the team in scoring through the first 63 games, was dealt for another package of futures including a first-round pick.
Make no mistake, Shattenkirk and Stastny are not Pietrangelo. The 30-year old is one of the most well-respected captains in the league, a Norris-level defenseman, and a current Stanley Cup champion. He also has been with St. Louis for his entire career and would go down as one of the best players in franchise history if he never played another game. His two-way skill is a huge part of what makes the Blues so special, which makes it easy to understand why he too wasn't dealt away at the deadline.
But there will be a limit for the Blues and if Armstrong's history is any indication, he won't hesitate in moving on if he feels that's what right for the organization. The fact that the salary cap situation is still so unclear makes the $79MM+ in commitments the team has already made for next year quite dubious, meaning they would have to move out some significant money to make room. Of course, there is still time to do that, especially if compliance buyouts or some sort of salary relief is put in place.
Photo courtesy of USA Today Sports Images