As things stand, the NHL is planning to have games resume at some point over the coming weeks.  Assuming the regular season continues, there will be plenty of things to watch for over the stretch run.  Over the coming weeks, PHR will examine the top stretch run storylines for each team.  We continue our look at the Central Division with Nashville.
It's been an inconsistent season for the Nashville Predators, who many felt could challenge for the Central Division title this season. Instead, the team struggled out of the gate, which included a six-game losing streak in November and by early January, general manager David Poile made a decision to let go of long-time coach Peter Laviolette and associate coach Kevin McCarthy after the team had a 19-15-7 record. The team replaced him with recently fired coach John Hynes, who took over and saw the team fight its way back into the final wild card spot, but with continued inconsistent play and several teams breathing down their necks, the team will have to fight to remain in the playoffs.
Questionable Offense
When looking at the team's top four point producers so far this year, the Nashville Predators have two defenseman in their top four, including defenseman Roman Josi, who leads the team in scoring by far with 65 points this season. That is fine when the team runs its offense through its defense. However, the team's first line players, however, aren't having great seasons, which has only made things more challenging.
While there is still plenty of time left, assuming the regular season resumes, Filip Forsberg looks to be heading for a career-low in goals. After never posting lower than 26 goals in his tenure with Nashville, the 25-year-old has just 21 goals and 48 points and still hasn't been able to take his impressive game to that next level and develop into the star that many people had envisioned.
To make matters worse, Poile went out of his way to upgrade his defense by trading away P.K. Subban in the offseason and using that new-found money to sign center Matt Duchene to give the team a second dominant center. Duchene was expected to play the role of a major point producer after posting a 31-goal, 70-point season last year between Ottawa and Columbus. However, that hasn't translated in his first year in Nashville as he has just 13 goals and 42 points through 66 games.
If Nashville wants to ensure a trip to the playoffs and maybe even surviving a round or two, the Predators must get more consistent play from their forwards. Even Viktor Arvidsson, who has averaged 30 goals for the three previous years has just 15 goals this season.
Goaltending Issues
A year ago, there were plenty of people that would have referred to the Predators' goaltending tandem of Pekka Rinne and Juuse Saros as one of the best in the league. However, that hasn't been the case so far this year.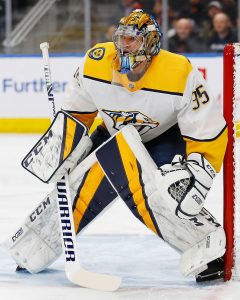 The 36-year-old Rinne started a new two-year, $10MM deal this season, but few expected a major drop-off after he posted a 2.42 GAA and a .918 save percentage in 56 appearances last year. Unfortunately for the Predators, those numbers took a nosedive. In 36 games this season, Rinne has a 3.17 GAA and a .895 save percentage, which has allowed Saros to take an even bigger role, while also leaving questions on how wise it was to give Rinne two more years.
After a slow start, Saros has been much more successful and has taken on the starting role, having appeared in 16 games since February.  The 27-year-old netminder has a pedestrian 2.70 GAA in 40 appearances (a career high), but also has a .914 save percentage, winning 10 of those appearances.
The team needs Saros to continue his conversion into the team's everyday starter, but also needs to hope that the break rejuvenates Rinne, who the team needs to bounce back and take some of the responsibility off Saros.
Coaching Transition
Often when teams fire their coaches at midseason, like the Predators did with Laviolette in January, the team hopes the change will inspire the team to take their game up a notch and show they are as talented as management had assumed at the start of the season. So far Hynes has the team at 16-11-1, only a slight improvement, yet while the team has been inconsistent since Hynes has taken over, Nashville has three three-game and three two-game winning streaks this year.
One would have to imagine that the layoff could benefit Hynes more than anything as he has more time to study tape and adjust his coaching techniques and lines to improve the team when they get back on the ice.
Photo courtesy of USA Today Sports Images.