With the trade deadline now less than a month away, we will be taking a closer look at the situation for each team over the coming weeks.  Where do they stand, what do they need to do, and what assets do they have to fill those needs?  Next up is a look at the Tampa Bay Lightning
After a crushing loss in the first round last spring, the Tampa Bay Lightning came back with plenty of question marks. Could they repeat the same outstanding regular season? Would Andrei Vasilevskiy maintain his Vezina performance? Could Nikita Kucherov remain in contention for the Hart Trophy? Early on each of those things did not seem possible, but after really turning up the heat over the last two months they're challenging for the Atlantic Division crown once again.
Record
37-15-5, second in the Atlantic Division
Deadline Status
Buyer
Deadline Cap Space
$8.63 in a full-season cap hit, 0/3 used salary cap retention slots, 48/50 contracts per CapFriendly
Upcoming Draft Picks
2020: TBL 1st, VAN 1st*, TBL 2nd, TBL 3rd, TBL 4th, DET 4th, TBL 6th, OTT 6th, TBL 7th
2021: TBL 1st, TBL 2nd, TBL 3rd, TBL 4th, TBL 5th, TBL 6th, TBL 7th, NSH 7th, NJD 7th
Trade Chips
You might think that a team which has amassed so much talent may have a bare prospect cupboard or nothing to deal, but that's not the case in Tampa Bay. The team has continued to produce assets through their draft and development system, while also holding onto as many high picks as possible. Just this year the team has two first-round selections they could dangle, after moving J.T. Miller to the Vancouver Canucks.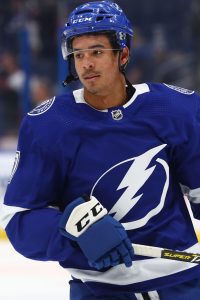 If they wanted to dangle some young roster talent, they have plenty of that as well. While the team isn't going to part with future Selke Trophy candidate Anthony Cirelli, other players that have come through the system in recent years like Mitchell Stephens, Carter Verhaeghe and Mathieu Joseph could be of value. All three are restricted free agents at the end of the season, and with a cap crunch coming could be expendable.
In the minor leagues they have talent too, with the likes of Alexander Volkov, Taylor Raddysh, Boris Katchouk and Alex Barre-Boulet all having various degrees of success. Cal Foote and Nolan Foote are likely off limits at this point unless the Lightning get into a big trade—something you can never rule out with this organization—but it would take a lot to pry the brothers out of their system.
Like every year, the names Ondrej Palat, Tyler Johnson and Alex Killorn will also surely come up in trade speculation at some point. The trio of role players are all having fine seasons, but there is enough there to replace them if the team feels they're upgrading elsewhere.
Five Players To Watch For: F Mathieu Joseph, F Alexander Volkov, F Taylor Raddysh, F Boris Katchouk, F Tyler Johnson
Team Needs
1) Bottom-Six Size: No, the Lightning won't be going out to get an enforcer for the fourth line, but the team does seem interested in adding some size to the bottom-six in some fashion. Joe Smith of The Athletic (subscription required) recently suggested that Joe Thornton could be a fit as a player that brings size and plenty of playoff experience. It's not so much that the future Hall of Fame center is going to throw his weight around, but he could give the team a little different look after rolling out those first few units of speed.
2) Defensive Depth: To be honest, this would even be a real need for the Lightning had Jan Rutta and Ryan McDonagh both not suffered injuries recently. The Lightning don't even really need to add anything at the deadline after going 23-4-2 over the last two months. But if they want to go deep in the playoffs this year they might do well to add an expiring contract on the back end just to give them a security blanket in case of future injuries. You can bet the team is keeping an eye on a player like Sami Vatanen and waiting to see how the market shakes out at the deadline.
Photo courtesy of USA Today Sports Images.