With the trade deadline now less than two weeks away, we will be taking a closer look at the situation for each team over the coming weeks.  Where do they stand, what do they need to do, and what assets do they have to fill those needs?  Next up is a look at the Columbus Blue Jackets.
Columbus paid a steep price to ultimately pick up their first playoff series victory last season and that price tag stung even more as Sergei Bobrovsky, Matt Duchene, and Artemi Panarin were among those to leave in free agency.  The reset was in full effect.  Or so it seemed.  To the surprise of many, the Blue Jackets are presently in a playoff spot despite a lengthy list of injuries to several key players that have them carrying an active roster with a combined cap hit of just under $50MM.  For reference, that's more than $10MM below the Lower Limit of the salary cap.  All of a sudden, they're going to be a team to keep an eye on at the deadline.
Record
30-18-11, fourth in the Metropolitan Division
Deadline Status
Light Buyer
Deadline Cap Space
$26.168MM in a full-season cap hit, 0/3 used salary cap retention slots, 47/50 contracts per CapFriendly
Upcoming Draft Picks
2020: CBJ 1st, CBJ 4th, CBJ 5th, CBJ 6th, CBJ 7th
2021: CBJ 1st, CBJ 3rd, CBJ 4th, CBJ 5th, CBJ 6th, CBJ 7th
Trade Chips
With a team that's on the bubble, sometimes they can buy and sell so this would be normally a spot to discuss their pending unrestricted free agents.  However, they don't have any on the active roster.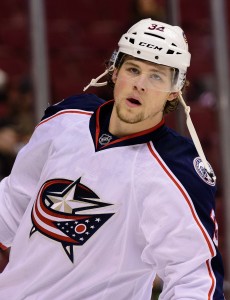 So let's shift the focus elsewhere.  Winger Josh Anderson is slated to become a restricted free agent with salary arbitration eligibility this summer.  He has already had one lengthy contract standoff with the team as his current deal was signed in early October in 2017 just before the season got underway.  The 25-year-old is only a year removed from a 27-goal season that made it look like he was one of the rising power forwards in the NHL.  However, he has struggled to stay healthy this season and hasn't played well when he has been in the lineup, collecting just a single goal with four assists in 26 games this season.  With his previous track record, there would certainly be interest in him now but a likelier move may be in the summer.
When speaking about injured players, Ryan Murray's name has to come up as well.  Before he suffered his latest lower-body injury, he had been made available around the league.  But since he's out of the lineup, the odds of him moving now are lower even if he is still available.
Most of their realistic trade chips are either going to be mid-round draft picks or prospects.  Rookie winger Trey Fix-Wolansky isn't the biggest but he had a track record of production in the WHL and is off to a good start in his first AHL campaign. Center Ryan MacInnis made his NHL debut this season and is having his best year in the minors which could attract some interest from a team looking for a closer to NHL-ready player.  Winger Paul Bittner, once viewed as a quality prospect, has struggled this season and could benefit from a change of scenery.  Winger Carson Meyer is wrapping up his college career and could be a player to watch for on the August 15th free agent market if not signed by the Blue Jackets.  If someone thinks he's worth a contract, his rights could be included in a trade.
Goaltender Matiss Kivlenieks is also one to keep an eye on.  He has looked decent in three appearances with Columbus this season and his AHL numbers are reasonable.  With Elvis Merzlikins and Joonas Korpisalo looking like their goalie tandem for the foreseeable future (plus Veini Vehvilainen in the pipeline) he could be expendable to a team looking to add a near-term goalie prospect to the system.
Five Players To Watch For: F Josh Anderson, F Paul Bittner, W Trey Fix-Wolansky, G Matiss Kivlenieks, F Ryan MacInnis
Team Needs
1) Scoring Help: Despite being in a Wild Card spot, the Blue Jackets sit 26th in the league in goals scored, the lowest of any team currently holding down a playoff position.  A top-six forward upgrade would be a big improvement but if GM Jarmo Kekalainen wants to hold on to his top picks and prospects this time around, even picking up a third liner that can help their secondary scoring would be a step in the right direction.
2) Defensive Depth: With Murray and Seth Jones on IR, what was a relatively deep defense corps has now been thinned out somewhat.  With both players expected to return this season, they don't necessarily have to target a top-four player but adding someone that can step onto their third pairing would give them a small boost and some important injury insurance at the same time.
Photo courtesy of USA Today Sports Images.