With the trade deadline quickly approaching, we continue to profile players that have a good chance to be dealt by February 24th.
Quite a few players that will be on the move are having quiet years with the acquiring team hoping that a change of scenery would get them going.  That is not the case when it comes to Senators center Jean-Gabriel Pageau.  He's in the middle of a career season and if he doesn't agree to an extension with Ottawa in the coming weeks, he'll become one of the more sought after forwards around the league.
Contract
Pageau is in the final season of a three-year, $9.3MM deal.  The contract is a little back-loaded as his $3.4MM salary is a little higher than his $3.1MM cap hit.  Pageau does not have any form of trade protection in his deal and is slated to become an unrestricted free agent in July.
2019-20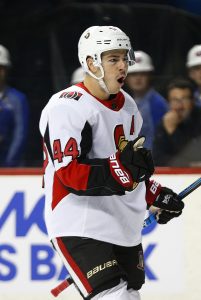 After scoring just four goals in an injury-plagued 2018-19 campaign, expectations were about as low as they could be for the 27-year-old.  However, with Colin White struggling early on, Pageau was pressed into a big role and instead of merely holding his own, he thrived.  He has already established new a career high in goals with 20 and his point-per-game average is the best of his career at 0.63.  He also has been above average at the faceoff dot for the fifth year in a row and his offensive output hasn't slowed down his defensive ability.  Coming into the season, Pageau looked like he could be a depth defensive forward for a contending team but now, he could be counted on to provide a lot more than that.
Season Stats
52 GP, 20 goals, 13 assists, 33 points, +11 rating, 20 PIMS, 117 shots, 19:19 TOI, 47.4 CF%, 52.7% faceoffs
Potential Suitors
It is a fairly weak market in terms of impact centers to the point where Pageau is arguably the best one available.  Accordingly, any team looking for help down the middle is going to have at least some level of interest.
In the East, the Islanders have been looking for upgrades down the middle dating back to the summer.  Pageau would give them another penalty killing option while providing a secondary scoring upgrade as well which is an area of need.  The Blue Jackets banged up down the middle with Alexander Wennberg and Brandon Dubinsky out and it's not like Columbus and Ottawa haven't made these types of deals before.  If the Bruins strike out in their search for help on the wing, they could turn around and add Pageau which would allow them to move Charlie Coyle to the right wing for the stretch run.  They'd need some assistance to make the money work though.
Out West, the Oilers have been looking for center help all season long and with Ryan Nugent-Hopkins spending a lot of time on the wing, there's an opening for Pageau on their third line.  Colorado has a well-balanced group of secondary scoring but could certainly add to that and shift J.T. Compher back to the wing.  Dallas has strong depth down the middle already but considering that Pageau would be their leading goal-getter, that alone could get their attention as they look to add some scoring punch.
Likelihood Of A Trade
Compared to some other rentals out there, this one isn't a guarantee.  The Senators do have legitimate interest in giving Pageau an extension and there have been recent discussions to that end.  If they can reach an agreement, they'll forego trading him; a trade and return scenario isn't likely.  If an extension isn't reached, then it's all but a certainty that he'll be on the move and the biggest question will be what the Senators will get in return.  A guaranteed first-round pick could be tricky but a second-rounder that upgrades to a first if the acquiring team wins a couple of playoff rounds could be doable.
Photo courtesy of USA Today Sports Images.