The week before the trade deadline is usually full of newsworthy events.  This past week was no exception although a lot of the news didn't pertain to the trade market.
Bogosian Hits The Market, Then Joins Tampa: After making it through waivers unclaimed, defenseman Zach Bogosian refused to report to AHL Rochester, Buffalo's affiliate.  He was promptly suspended without pay but instead of leaving it at that, the Sabres then placed him on unconditional waivers and after he went unclaimed, they terminated his contract without any lingering cap charges or money owed.  He wasn't a free agent for long, however, as he has already reached an agreement with Tampa Bay on a one-year deal worth a pro-rated $1.3MM.  By going this route over reporting to the AHL, Bogosian is leaving quite a bit of money on the table but gets the chance to play for a playoff contender.
Martinez To Vegas: Tuesday and Wednesday represented a run on defensemen trades but only one of those involved a blueliner that's signed through next season.  That player was Alec Martinez who the Kings traded to the Golden Knights in exchange for a pair of second-round picks.  While Martinez missed 18 games earlier this season due to a wrist laceration, he is still a capable defensive defender that should be able to come in and help stabilize the back end for Vegas while they maintain their track record of not adding rental players.  (Those that were added on expiring deals had extension agreements in place at the time they were acquired.)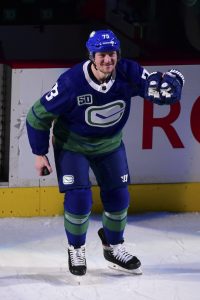 Canucks Add Toffoli, Lose Boeser: The Canucks made an early splash on the trade front, acquiring Tyler Toffoli from the Kings in exchange for winger Tim Schaller, prospect Tyler Madden, a 2020 second-round pick, and a conditional 2022 fourth-rounder that's contingent on Toffoli re-signing with Vancouver.  On the surface, it looked like a strong attack was getting even stronger but it was revealed soon after that winger Brock Boeser will miss the next eight weeks due to a rib injury, one that won't acquire surgery.  Toffoli will serve as a capable replacement for Boeser to help try to keep Vancouver in the mix while in Madden, the Kings add a prospect that has vastly outperformed his draft status and is one of the top scorers in the NCAA this season.
Bruins Get Kase: The Bruins had been shopping for a right winger for a while.  They had also been shopping David Backes for a while.  Those two elements came together as Boston picked up Ondrej Kase from the Ducks in exchange for Backes, their 2020 first-round pick, and defense prospect Axel Andersson.  Boston also is retaining 25% of Backes' $6MM AAV.  Kase has shown flashes of being a quality offensive threat in the past but has also battled bouts of inconsistency and injuries.  He's signed through next season at a team-friendly $2.6MM AAV and will be a restricted free agent after that which means he could be around for a while which makes it easier to part with the first-rounder.  Meanwhile, the Ducks utilized their cap space to add an extra first-round selection plus a decent prospect while they should have a use for Backes who is signed through next season.
Bjorkstrand Out For A While: Despite losing several top players and a ridiculously long list of injuries to key players, the Blue Jackets are right in the thick of the playoff race in the ultra-tight Metropolitan Division.  That battle just got a lot harder when they announced that winger Oliver Bjorkstrand will miss the next eight-to-ten weeks due to a sprained and fractured ankle.  The 24-year-old is their leading goal-getter this season with 21 which is particularly notable considering that they're in the bottom five in the league in goals scored.  That could force GM Jarmo Kekalainen to try to make at least a small move to try to replace some of that offense over the next few hours.
Photo courtesy of USA Today Sports Images.