The Boston Bruins are set to make a move addressing their hole on right wing, acquiring Ondrej Kase from the Anaheim Ducks. In return, the Ducks will receive David Backes, Axel Andersson and a 2020 first-round pick. The Bruins will retain 25% of Backes' contract.
Though he may not have a huge level of name recognition, Kase is a substantial acquisition for the Bruins as they drive towards the playoffs and a Stanley Cup chase. The 24-year old has proven in the past that he can drive play at even-strength, but has had trouble staying healthy throughout his short NHL career.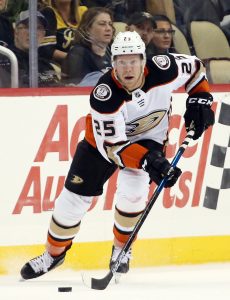 In 198 career games, Kase has 43 goals and 96 points and is an absolute darling of the analytics community. His possession statistics are off the chart, and he'll likely be tried in a spot the team has been desperate to fill for some time. The Bruins' second line right wing spot beside David Krejci has had a revolving door of auditions, but no one has been a perfect fit. If Kase can become that full-time solution, it allows the team to move Charlie Coyle back to the middle lower in the lineup.
Getting out from under the Backes contract is also huge for the Bruins, given he was no longer even playing for the team. The veteran forward has another year left on his deal at $6MM, meaning the Ducks will be taking on a $4.5MM cap hit next year to make this deal work.
The fact that the Bruins actually gain cap space in this contract, given Kase's $2.6MM hit this season and next, means they're not necessarily prevented from making another trade in the coming days. Kase will still only be a restricted free agent at the end of the 2020-21 campaign, making this exactly the kind of move that GM Don Sweeney has started to turn to after acquiring rentals in the past. Last year the team used a young piece to bring back Coyle, who had term on his deal (and has since been extended) to help them longer than just one spring. That's exactly what Kase will do, though he'll have to stay healthy for it to work.
For Anaheim, this is exactly what it meant when they made it clear to reporters they would take on bad contracts for young assets. Kase's name had been in trade rumors for some time, and they cashed in to add two interesting pieces to a rebuild.
Andersson isn't one of the Bruins very top prospects, but he does come with plenty of upside. The 20-year old defenseman was selected in the second round of the 2018 draft and currently plays in the QMJHL. He has 22 points in 41 games, but still needs quite a bit of time to be ready for the NHL. That's time the Ducks have but the Bruins don't, as they are in very different competitive windows.
Pierre LeBrun of The Athletic was first to break the deal on Twitter.
Photo courtesy of USA Today Sports Images