Topics in this edition of the PHR Mailbag include the looming decisions the Rangers need to make, the Islanders at the trade deadline, Arizona's offense, Montreal's top veterans, needs for the Golden Knights, midseason surprises and disappointments, Boston's continued search for a top-six winger, and some draft talk.  If your question doesn't appear here, look for it in last week's edition.
acarneglia: How do the Rangers resolve Kreider's pending free agency, Lias Andersson's request out, and their situation in goal?
CoachWall: With the Rangers promoting Igor Shesterkin, could they be seriously considering trading Georgy? They need to get a good return to make that deal.
@hawkeyguy: Are the Leafs and Rangers really linked in trade talks?
Chris Kreider is someone that the Rangers don't appear to be all that interested in talking about an extension with, at least according to recent reports.  They've made teams aware that they're willing to retain on his contract to facilitate a trade and there haven't been any discussions about a deal beyond this season.  That can certainly change at any time and I'm sure GM Jeff Gorton will eventually get a sense for what a new deal will cost.  But at this point, it's looking like a trade is a lot likelier than not and will happen relatively soon (by the trade deadline).
I don't expect Andersson's situation to be resolved as quickly.  The fact that he walked out doesn't help.  Some of the almost cryptic comments he made back home doesn't help.  He wasn't playing all that well in Hartford and isn't playing at all now.  You guessed it – that doesn't help either.  If they were to move Andersson now, they'd be doing so at a considerable loss and at the same time, setting a precedent that they probably don't want to do (if you want out, walk out and we'll trade you).  This one should drag out into the summer where they'll likely take a run at trying to get him to try again with New York before acquiescing if he still wants out.
I'm still of the opinion that they don't have to trade a goalie.  Yes, a three-goalie situation is far from ideal but there is a defined end date when Henrik Lundqvist's contract is up following 2020-21.  If they can make it that long, Shesterkin and Alexandar Georgiev is a quality tandem to work with.
If they do decide to make a deal, it seems that Georgiev will be the odd man out and Toronto is among the many teams that have kicked the tires.  The big question is going to be whether or not there's a team that sees him as a number one down the road.  If so, they should be able to land a good enough player to justify moving him.  But if he's viewed as a platoon option, they're not going to get the impact young player they're seeking so waiting for the offseason would make some sense.  I liken his situation to that of Cam Talbot's when he was in New York and that one took until the summer to sort out.
nk: Lou Lamoriello is known for being the wise GM and aggressive when need be but it is getting evident that he knows the AHL Sound Tigers affiliate is not ripe with forward talent and with the Pelech injury does not want to deal D out of the system. Knowing this, with the major offensive struggles the Isles have had recently do you see him making a trade or will he be content to ride the wave with his current cast and just wait until the summer to try and get the offensive help needed when certain salaries come off the books?
I expect the Islanders to still try to add an offensive upgrade or two.  This is a team that showed that when they can score at even a reasonable clip, they can be dangerous.  They've largely struggled in that department over the last couple of weeks (aside from popping eight on Detroit earlier in the week) and that has dropped them back to third in the division and only a few points ahead of a Wild Card spot.  Reinforcements are going to be needed and Lamoriello knows that.
The injury to Adam Pelech makes it a bit tougher to deal from their defense but they can still dangle some prospects or draft picks to try to add some pieces.  While they don't have any extra picks, they also have their full complement of selections at their disposal and while some of the Bridgeport forwards aren't likely ready to contribute at the NHL level yet, they would still attract some interest from other teams.  Someone like Otto Koivula comes to mind – he hasn't looked great in NHL duty yet but at 21 and another year left on his deal, there will be teams intrigued by his size and offensive output in the minors.
Vin Scully: Will the Yotes do anything else to shore up their offense?
Short of a depth move, I don't see them doing much else of consequence up front.  When you add Phil Kessel and Taylor Hall and the needle doesn't move much, that suggests that the limited offense is more systemic than talent-based.  Their system is working pretty well for them (they're tied for first in the Pacific despite some injured goalies as of late) so they're not going to change that so why make another big swing when you have a reasonable idea that it won't have that much of an impact?
Part of the reason I don't see them doing much more is that their trade chips are limited.  They're down first and third-round picks this season.  Their top three picks are essentially encumbered from the Hall trade while we wait to see which provision(s) take place.  That basically takes them out of the running for any top talent right there.
I actually think Arizona may look to add a defenseman even though their unit is pretty deep.  Jordan Oesterle, Ilya Lyubushkin, and the recently-recalled Kyle Capobianco are all depth options and finding an upgrade for a reasonable cost (a mid-round pick or similar prospect) is doable while fitting in the range of assets that they're likely willing to part with.
Mark Black: What would a Carey Price or Shea Weber trade look like for Montreal? From a salary/long term strategy standpoint, who would be better to trade?
In terms of what it would look like, the return would be completely theoretical as GM Marc Bergevin is going out of his way to try to quash any notion of them getting traded so let's focus on the second part of the question.
From a long-term standpoint, I would move Price first.  The contract was pricey to begin with and now with the marketplace shifting towards preferring starters playing less, it's not going to get any better.  Price's reputation is still relatively strong even if his numbers aren't so there may be some teams out there that think behind a better defense, he could get back to his top form.  There would need to be a fair bit of money offset though, either by retention (something I don't think Montreal would do anytime soon) or by taking some higher-priced players back.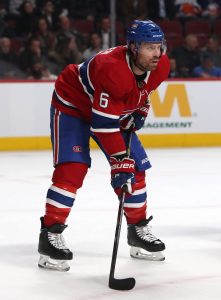 As for Weber, there will come a time where he can't log 25 minutes a night but right now, he's still playing quite well and with the Canadiens unwilling to go into a larger-scale rebuild, it's hard to see them wanting to move him.  There would be several interested teams if they were open to dealing him though.  Once his salary really starts to drop off (to $3MM in 2022-23, $1MM for three seasons starting in 2023-24), he could move to a team looking to get to the cap floor but by then, he's probably more of a second pairing option at best and the return would be low.  The 2022-23 season is the first that Montreal would be out of salary recapture risk as well (though their potential exposure is a lot lower than Nashville's).
I think the fall off risk is higher with Weber but they can get out of that deal easier down the road based on its structure so from a strategic standpoint, moving Price is probably the better way to go but neither will happen anytime soon.
WalterNYR: Vegas is obviously a Cup contender, but what kind of move can they make to put themselves in the best position possible?
Evidently, they saw a coaching change as something that would help put them in the best position possible which is something I certainly didn't see coming.  Time will tell if that helps or hurts their chances.  It will likely delay any movement though as GM Kelly McCrimmon will want to see if Peter DeBoer can help cure what ails them, particularly on the back end.
That's the position I think they should be trying to upgrade at and by all accounts, they've been trying to do just that for a while now.  They have plenty of firepower up front but their back end is still largely patched together with depth options playing more minutes than they should.  A legitimate top-four defender could be the final piece of the puzzle.  However, with minimal cap space, they'll have to unload some contracts the other and potentially get the other team to retain.  Are they open to dealing another first-round pick or will they be trying to deal from their surplus of second-rounders (five over the next two drafts) instead?  That will determine what tier of blueliner that they can ultimately get.
Xyrak: Who's been the biggest disappointment so far this year in your estimation? San Jose, Nashville – someone else?
What about surprise? Arizona, Edmonton or a write-in?
You hit the nail on the head with the disappointments this season.  The Predators looked like they'd be a contender but instead are out of a playoff spot with a lot of questions in goal with both Pekka Rinne and Juuse Saros struggling.  I thought the Sharks would take a small step back but going from losing the Western Conference Final to not being close to a playoff spot qualifies as a huge step back.
In the pleasant surprise category, I have to put Columbus.  I basically crowned them as the seventh-place finisher in the Metropolitan not that long ago but here they are tied for a playoff spot with their starting goalie (who replaced last year's starter) injured, four regular forwards on IR, plus missing a pair of defensemen.  John Tortorella isn't getting enough credit for what he has been able to do with this group.  I'm not all that surprised by Arizona as I figured they'd be in the mix for a playoff spot and that's exactly where they are.  Edmonton is doing a little better than I thought but I still have concerns about their supporting cast which will need upgrading if they want to try to separate themselves from the crowded pack in the Pacific Division.
Puckhead83: Bruins are still looking for a 2nd line with punch. Do they continue their never-ending search for a RW for Krejci or do they try to make a new 2nd line with Coyle/DeBrusk and someone else?
I expect them to continue their search for the right fit with David Krejci.  We've already seen them linked to Tyler Toffoli and reports have suggested that they are looking at other right wingers as well.  If recent history repeats itself, GM Don Sweeney will make a move to shore up that spot over the next month or so and it wouldn't shock me to see him try to do another move like the Charlie Coyle pickup last year where it's not a pure rental situation.
While Krejci is having a quieter year offensively, he's still their top point-getter beyond the top line so dropping him down to the third line and having Coyle, Jake DeBrusk, and someone else anchor the second line is a little counter-productive in the short-term (though it could have some longer-term merits).
JDGoat: Who improved their draft stock the most at the WJC?
tigers22: Red Wings land the #1 pick, who in your eyes is the best pick for a franchise that desperately needs a new franchise player?
met man: How would you rate the 2020 draft in terms of high-end prospects?
Let's wrap this up with some draft talk.
In terms of who improved their stock the most, I think you have to start with Tim Stutzle.  While his offensive numbers in the DEL have been impressive this year, it's also not the top caliber of leagues.  The World Juniors gave him a test against a better group of competition among his age group.  He certainly impressed and in the process, likely removed some asterisks from NHL scouts as well.  In terms of an off-the-radar pick, I'd go with Finnish forward Kristian Tanus.  He went undrafted a year ago but has held his own in the SM-liiga so far this season which would help get him on the radar.  Tanus then led the Finns in scoring in the tournament, contributing on nearly half of their goals.  He's undersized but towards the end of the draft when teams are taking bigger swings, this is a player whose performance in the tournament may very well get him drafted.
I know that there are some that would take Quinton Byfield here as he profiles as a number one center which is something Detroit needs but I'd still go with the winger in Alexis Lafreniere.  He's going to be a very productive NHL player and should easily be able to jump into a top-six role with Detroit (or whoever winds up with the top pick).  I think Lafreniere has game-breaking talent which sets him above the rest of this draft class even if a winger is the least premium position to fill.
The 2020 draft class is well-anticipated for its depth but there is no elite superstar coming either.  Players like Lafreniere, Byfield, and Stutzle should all be quality top liners that could be classified as a star player while Jamie Drysdale should be a top-pair defender.  Yaroslav Askarov didn't have a great showing in the World Juniors but should still be a top-end goaltender (or at least drafted as one).  Teams drafting at the top are going to get good core pieces but I don't expect to see a lot of true franchise players selected from this group.
Photo courtesy of USA Today Sports Images.