After trading away Mike Reilly, the Montreal Canadiens have gone out and found themselves a different defenseman. The Canadiens have acquired Marco Scandella from the Buffalo Sabres in exchange for San Jose's 2020 fourth-round pick. The Sabres then flipped that pick to acquire Michael Frolik from the Calgary Flames. No salary was retained in either transaction.
All season the Sabres had been looking to move one of their surplus defenseman to free up some cap space, and Scandella was essentially replaceable even if he was playing well of late. Buffalo has several other capable NHL defensemen, including some sitting in the minor leagues waiting for their opportunity. By moving the 29-year old Scandella and his $4MM cap hit out, they freed up enough room to bring in another forward that can help Jack Eichel create some offense.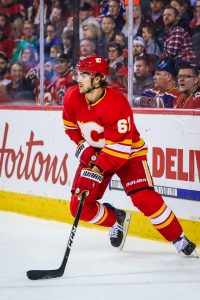 Frolik, 31, comes to the Sabres after being the subject of many trade rumors over the last few years. There were times when it seemed he had completely run out of patience with the Flames organization, and times where they seemed to feel the same about him. Still, he continued playing for them and recorded 16 goals and 34 points in 65 games last season while providing solid penalty killing ability whenever asked. This season has brought ten points in 38 games, but given his average of fewer than 12 minutes a night it would have been difficult to provide much more offense.
In Buffalo, he'll surely get a chance to be more of a contributor on that side of the puck. A Stanley Cup champion with the Chicago Blackhawks, Frolik has actually been a relatively consistent goal-scorer the last several years, recording double digit totals in each of the last six seasons. If the Sabres want to make the playoffs this season they absolutely needed to add more scoring punch up front.
For Montreal, a team that may now be overlooked in this busy night, swapping Reilly for Scandella provides an upgrade in experience and defensive capability. While the young defenseman may be more mobile and at one point provided a little more offensive upside, Scandella is nearing 600 games played at the NHL level and should help their group find a little more balance.
The Canadiens have been relying heavily on their top three names this year with Shea Weber, Jeff Petry and Ben Chiarot all logging more than 23 minutes a night, but will hope that Scandella can take some of that load off their shoulders. The Montreal native also has a ton of experience on the penalty kill, where the Canadiens currently rank 25th in the NHL.
Scandella is an unrestricted free agent at the end of the year, meaning their overall moves have also removed an NHL contract from the books for next season when they are expecting prospects like Alexander Romanov to compete for spots.
Calgary also changes tonight, opening up some room of their own by ridding themselves of Frolik's $4.3MM cap hit. That gives the Flames some extra flexibility of their own as they try to claw their way back into the Pacific Division race. The Flames will be a team to watch moving forward as they try to right the ship.
Photo courtesy of USA Today Sports Images