With the Toronto Maple Leafs floundering near the bottom of the Eastern Conference and on a six-game losing streak, chatter has started building around some of their pending unrestricted free agents. Tyson Barrie in particular has looked like a fish out of water in Toronto after an offseason trade brought him to the Maple Leafs, and with his relatively low cap hit—the Colorado Avalanche retained salary in the deal so Barrie costs just $2.75MM this season—he has drawn interest from around the league.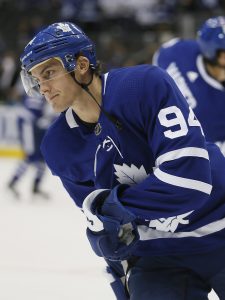 Still, Toronto doesn't seem eager to make a move. Speaking with Mike Zeisberger of NHL.com this week, Maple Leafs' GM Kyle Dubas preached patience when it comes to evaluating players:
I think the reality is, especially when you have a player with a long proven track record, I think you can make some major mistakes by being hasty and not trying to dig in to what you're seeing on video, what you're seeing in games, what you're seeing via data or finding out from the player how they feel. You've got to dig into those aspects to try to find a solution to get that player to play to their potential.
Barrie, 28, still hasn't scored a single goal this season after recording double-digit totals in five of the last six years. The fact that he has just seven assists is incredibly troubling as well, given he is coming off a 59-point campaign with Colorado last season. Some of that is not running the first powerplay in Toronto (a spot that Morgan Rielly holds), but there has been an obvious mismatch in system and style for Barrie in Toronto.
Elliotte Friedman of Sportsnet included a note on Barrie in his recent 31 Thoughts column, writing that there is "definitely an understanding from all parties that this isn't working so far." Not only does the veteran defenseman have to worry about the Maple Leafs turning things around, but his value on the open market is also dropping daily.
Barrie was set to be one of the most sought-after defensemen in free agency, but with a contract season like this it's unclear where his market will end up.