The transition from Colorado to Toronto has not been a particularly good one so far for defenseman Tyson Barrie.  As a result, teams have been calling to see if the Maple Leafs would be willing to move him, Sportsnet's Elliotte Friedman reports (video link).  However, it doesn't appear as if GM Kyle Dubas is willing to move him just yet.
Barrie was acquired from the Avalanche back in July along with center Alexander Kerfoot in exchange for center Nazem Kadri and defenseman Calle Rosen.  He has been a very productive offensive weapon from the back end and has recorded at least 49 points in four of the last five years.  That hasn't carried over to his new team though as through 22 games this season, the 28-year-old has yet to score and has just six assists.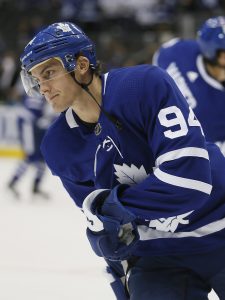 Barrie is slated to become an unrestricted free agent this summer and this slow start certainly can't be helping his market value.  Friedman notes that while the defender hasn't asked for a trade, there is a recognition that this can't continue.  With that in mind, it's certainly possible that Toronto's current hesitancy could change if things don't pick up over the next little while.
With the Avs holding back half of Barrie's $5.5MM AAV, there should be plenty of teams with interest and that have the ability to take on a pro-rated $2.75MM cap charge.  That said, given Toronto's inability to take on extra salary given their cap situation, it puts them in a bit of a bind.  They're a team that's built to try to win now but there aren't going to be many impact players available that could be a plausible return for someone like Barrie at that low price tag which could limit their options.
It's reasonable to suggest that no one saw this type of offensive drop off coming from Barrie.  For now, the Maple Leafs are content to let him try and turn things around but if his struggles continue, he could certainly be a very interesting name to keep tabs on closer to the trade deadline.
Photo courtesy of USA Today Sports Images.