The Nashville Predators have once again found common ground on an extension with one of their franchise icons. Captain Roman Josi has agreed to an eight-year extension that will keep him under contract through the 2027-28 season. The deal, which will carry an average annual value of $9.059, is set to make Josi the third highest paid defenseman in the NHL, just ahead of former teammate P.K. Subban. It also represents another long-term commitment from Predators GM David Poile, and sets up Josi to potentially play his entire career with the Nashville organization. Poile released a statement explaining the deal:
Roman Josi is one of the top defensemen in the National Hockey League and our team leader as captain. As he enters his prime, we look forward to Roman continuing to showcase his elite skills in Smashville and guiding our team in pursuit of the ultimate goal, the Stanley Cup.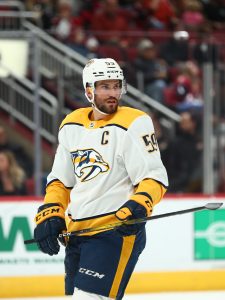 Notably, the team has also given Josi a full no-movement clause, something that Poile is almost always against. In fact, the only player on Nashville currently with a no-trade clause of any kind is goaltender Pekka Rinne.
Obviously there is good reason for Josi to become the second player on that list. The 29-year old defenseman has been one of the league's consistent two-way players over the last several years, recording at least 49 points in each of the last five seasons while more than holding his own in the defensive end. During that five-year span, Josi has finished in the top-11 in Norris Trophy voting every season, including two fifth-place finishes.
It is not just his on-ice play that has garnered so much attention however. Josi was the easy choice as team captain after Mike Fisher announced his retirement and is a valued leader in the Nashville dressing room. With a new extension in hand he'll be able to continue in that role for the foreseeable future, perhaps even until he retires down the line.
Still, any time you sign a player to an eight-year contract of this magnitude there is substantial risk. Though Josi has shown absolutely no signs of slowing down at this point, he will be 30 before the first year of the contract kicks in, meaning it takes him into and through what is normally a steep decline phase for NHL players. While he may be one of the select few to avoid that precipitous fall, there is also already a lot of miles on the Swiss defender—he's averaged close to 25 minutes a night over his entire career.
The Predators though are obviously willing to make the investment to keep Josi in the fold right now. The team believes they are Stanley Cup contenders and now have their core locked up for the next several years. Ryan Johansen, Matt Duchene, Kyle Turris, Viktor Arvidsson, Colton Sissons and Ryan Ellis are all under contract for at least five seasons, while Filip Forsberg, Calle Jarnkrok and Mattias Ekholm don't become unrestricted free agents until 2022.
Not only will this deal make Josi a very wealthy man, but it will set a market for many other top defensemen looking at free agency in 2020. Alex Pietrangelo, Tyson Barrie, Torey Krug and others are all going to get huge raises before the end of next summer, with Josi's deal now either being a comparable or perhaps a ceiling to shoot for, depending on the player. Pietrangelo in particular may try to eclipse the deal to become one of the top earners, though it's not clear exactly if or when an extension will come with St. Louis.
For now though, Josi the Predators can start to focus on the task at hand—getting back to the Stanley Cup Final. With 13 points in his first 11 games, he's doing his part already.
Photo courtesy of USA Today Sports Images