It was a largely quiet week around the NHL as teams are settling into the season and taking a look at what they have before pondering any significant moves.  Despite that, there were a few stories of note from the past seven days.
Defensive Depth For Detroit: Marred by several injuries early on, the Red Wings swung a deal with Vancouver to acquire some defensive depth as they picked up Alex Biega from the Canucks in exchange for prospect winger David Pope.  Biega cleared waivers at the end of training camp but with 172 NHL games played over the last four seasons, he'll give them some much-needed insurance.  Meanwhile, Pope is in the second and final year of his entry-level deal but he hasn't had much success in the pros yet, recording just two goals in 28 AHL games last season.
Pittsburgh Injuries: Another team that has been hit hard by the injury bug is Pittsburgh.  They now find themselves down a pair of centers for at least a month as Nick Bjugstad and Evgeni Malkin were injured in the same game with lower-body injuries.  There doesn't appear to be a set timeline for Malkin's return either.  Offseason acquisition Alex Galchenyuk has some experience playing down the middle but he's not a candidate to step in for those two as he too has a lower-body issue and has been moved to injured reserve.  The three veterans join Bryan Rust as a very expensive group of injured forwards; the four carry a combined cap hit of $22MM.  Rust and Malkin have been transferred to LTIR to give them some cap flexibility in the short-term.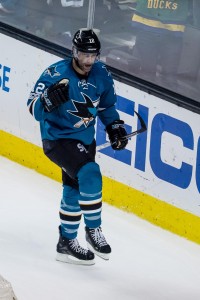 Marleau To San Jose: When Patrick Marleau turned down an opportunity to play for Carolina when they acquired him at the draft and accepted a buyout instead, he made it clear that he wanted to play for the Sharks.  However, the interest wasn't mutual and instead, he remained unsigned heading into the season.  San Jose struggled out of the gate and with some injuries, they decided the time was right to bring the veteran back as they signed Marleau to a one-year deal worth the pro-rated league minimum salary of $700K (and no performance bonuses or trade protection).  Marleau spent the first 19 years of his career in San Jose and made quite the impression in his return with a pair of goals.  As he was unsigned to start the season, his league-leading ironman streak remains intact.
Senators Acquire Namestnikov: With the Rangers adding several forwards over the offseason, Vladislav Namestnikov's spot in their lineup was tenuous at best.  The team tried to move him over the summer and found a taker for him early in the week as the Senators acquired the winger in exchange for minor league defenseman Nick Ebert and a 2021 fourth-round pick.  The Rangers also retained $750K of his $4MM cap hit on a deal that expires at the end of the season.  For New York, they free up some much-needed cap flexibility while Ottawa gets to take a look at a player that put up 22 goals and 48 points back in 2017-18.  Namestnikov is off to a strong start with his new team with two goals and two assists through his first two games.
Honka Signs In Finland: Stars defenseman Julius Honka has made it clear that he'd like to be traded but thus far, Dallas has yet to find a trade to his liking.  As a result, the blueliner has signed a one-year contract with JYP Jyvaskyla of the Finnish SM-liiga.  Notably, the deal does contain an NHL out clause if the Stars find a new home for him by the RFA signing deadline of December 1st so this could merely wind up being an opportunity for him to get some game action to showcase himself for possible suitors.  Honka won't need to clear waivers to return to the NHL unless he signs an offer sheet.
Photo courtesy of USA Today Sports Images.