Wednesday: The team has officially filed the Marleau contract, meaning his iron man streak was not broken last night. Marleau was at practice today for the Sharks alongside Logan Couture and Timo Meier, indicating he'll be asked to play a big role right from the start with the struggling club.
Tuesday: It was inevitable after all. Patrick Marleau has signed with the San Jose Sharks, returning after a two-year absence to the city where he spent most of his career. A deal was hinted at earlier today by Pierre LeBrun of The Athletic, who noted that several teams had recently reached out to the veteran forward. The deal will be a one-year contract that pays a league-minimum salary of $700K.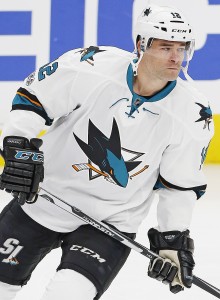 Marleau, 40, left the Sharks as an unrestricted free agent in 2017 to sign a lucrative three-year deal with the Toronto Maple Leafs, but didn't finish it. Instead, after two seasons with in Toronto, Marleau was shipped off to the Carolina Hurricanes in order to facilitate a buyout of the final year of his contract. The Hurricanes were happy to eat the $6.25MM cap hit in exchange for a first-round pick, meaning Marleau could decide exactly where he wanted to play this season. There seemed to be an obvious fit in San Jose, but things didn't materialize through the summer as the Sharks dealt with a cap crunch thanks to their hefty defensive contracts and restricted free agent deals.
Now, with the Sharks suffering multiple injuries (however minor) up front, the time was right for Marleau to rejoin his old squad. Originally selected second overall in 1997, Marleau jumped into the NHL right away and played 74 games with the team in 1997-98. That would turn out to be the fewest games of his career in a single non-lockout-shortened season, as he proved to be a pinnacle of health. In fact, Marleau has played in at least 81 games in 14 different seasons and hasn't missed a single game in ten years.
Even though his iron man streak is something to behold, there are questions about how effective Marleau can be at this point in his career. His play dropped off last season for the Maple Leafs as he scored just 16 goals and 37 points—both the lowest totals he's had in a full season since his rookie year—while even his previously elite skating ability seemed to slow somewhat. While Sharks' teammate Joe Thornton still believes Marleau can skate well enough for the NHL, that doesn't necessarily mean he'll be an effective option for the Sharks on a nightly basis.
Still, for a team like San Jose that has struggled out of the gate and is looking for reinforcements up front, you could do worse than a player who has scored 551 goals in his NHL career. Marleau currently sits fifth on the all-time games played list, and needs 77 to pass both Ron Francis and Jaromir Jagr. With 79 games left in the Sharks season it is certainly possible, especially for a player who hasn't sat one out in a decade.
Photo courtesy of USA Today Sports Images