As is often the case, the final week leading up to the start of the regular season was a busy one in the NHL.  Here are the top stories from the past seven days.
Bridge Deals: Short-term contracts, commonly referred to as bridge deals, have been largely avoided for top players in recent years.  This was not one of those times as a trio of players inked them to get signed for the beginning of the season.  Tampa Bay center Brayden Point signed a three-year, $20.25MM deal, one that allows the Lightning to start the season without having to make any more cost-cutting moves.  He's owed a $9MM qualifying offer in 2022.  Meanwhile, Calgary winger Matthew Tkachuk followed suit, inking a three-year, $21MM pact to give him the highest cap hit on the Flames.  He also will be owed a $9MM qualifier in 2022.  Their contracts helped provide a framework for Winnipeg and winger Patrik Laine to agree to a bridge pact of their own as they got a two-year, $15MM pact done.  His qualifying offer will be $7.5MM at the end and he will be two years away from UFA eligibility instead of one year like the other two.
Johnson On The Move? The five-year contract that the Penguins handed defenseman Jack Johnson last summer drew some ire, especially considering their status as a team that's perpetually tight to the Upper Limit.  It appears that Johnson could be on the move in the near future as GM Jim Rutherford has informed him that he is at the center of many of their trade discussions as they look to free up some cap space before the season gets underway.  It's possible that Pittsburgh will need to include an inducement to get a team to take on that contract unless they take a slightly-cheaper deal in return and make it a swap of undesirable contracts over a pure money dump.  Johnson, 32, does not have any trade protection in his contract.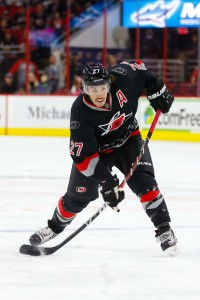 Faulk To St. Louis: After a reported deal with Anaheim fell through, the Hurricanes regrouped and found a new home for defenseman Justin Faulk, sending the defenseman to St. Louis along with a 2020 fifth-round pick in exchange for blueliner Joel Edmundson, winger prospect Dominik Bokk, and a 2021 seventh-rounder.  Carolina is also retaining 14% of Faulk's contract this season.  While both defenders were in the final year of their contract, that wasn't the case for long as Faulk quickly inked a seven-year, $45.5MM extension.  Faulk will add another offensive threat to the back end for the Blues although it calls into question the long-term future of captain Alex Pietrangelo with them now having Faulk and Colton Parayko locked up on the right side.  Meanwhile, Bokk adds to a quality group of young forwards that Carolina has while Edmundson, though coming off a down season, gives them another quality blueliner on a particularly deep back end.
Non-Bridge Contracts: While three young stars took short-term deals, two went the other way.  Colorado winger Mikko Rantanen signed the second-largest RFA deal from this class, inking a six-year, $55.5MM contract; his $9.25MM AAV checks in $1.643MM below Toronto's Mitch Marner while making him the highest-paid player on the Avalanche by a significant margin over Nathan MacKinnon ($6.3MM).  Meanwhile, Winnipeg was able to get a seven-year, $50MM pact done with winger Kyle Connor, a deal that makes him the Jets second-highest-paid forward behind Blake Wheeler.  Connor only has two full NHL seasons under his belt but has surpassed the 30-goal mark in each of them which gave him a fair bit of leverage.  Both players will be eligible for unrestricted free agency at the end of their deals.
Migraine Issues For Patrick: This is supposed to be a crucial third NHL season for Flyers center Nolan Patrick.  The 2017 second-overall pick is entering the final year of his contract and considering the deals that have been signed over the past couple of weeks, a strong 2019-20 campaign could position him for a significant raise.  However, he has already hit a snag before it even started as he was diagnosed with a migraine disorder and won't be with Philadelphia to start the season.  He's listed as week-to-week but there is no timetable for his return.  The Flyers added center Kevin Hayes over the offseason and he'll be counted on to play an even bigger role to start the season now.
Photo courtesy of USA Today Sports Images.