The Calgary Flames have finally found some common ground with restricted free agent Matthew Tkachuk. The young forward has signed a three-year contract worth a total of $21MM, ending a long negotiation and getting him back in the fold before the season begins. Darren Dreger of TSN adds that like Brayden Point, Tkachuk will have a $9MM salary in the third year, securing a large qualifying offer that could take him right to unrestricted free agency.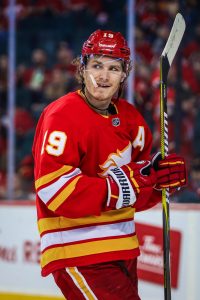 A deal of this magnitude not only gives Tkachuk the highest three-year bridge deal in history (eclipsing Point, who signed for three years at $6.75MM), it also makes him the highest-paid player on the entire Flames roster. While that has more to do with the bargains that are Johnny Gaudreau ($6.75MM) and Sean Monahan ($6.375MM), it also shows just how good Tkachuk has been throughout his young career.
Still just 21 years old, the sixth-overall pick from the 2016 draft has now amassed 174 points in 224 NHL games and is coming off a 34-goal campaign. His offense has continued to improve while the rest of his game—most notably his physicality and ability to get under the skin of opponents—allows him to make an impact no matter the score. The fact that he is able to compete in that fashion while not taking a ton of penalties (his 62 PIM in 2018-19 put him alongside players like Nikita Kucherov, Blake Wheeler and Ryan Strome) makes him one of the unique talents in the NHL and incredibly valuable to the Flames.
Even so, this deal certainly isn't a perfect scenario for the Flames. Not only does it keep them in an extremely difficult cap situation this season, Tkachuk could now potentially get to unrestricted free agency as soon as possible by accepting that $9MM qualifying offer. The team will have to open extension talks at some point before that happens or risk their prize hitting the open market. Coincidentally, both Gaudreau and captain Mark Giordano have contracts that expire in 2022 as well, giving the team some real flexibility when it comes to extensions.
There's no doubt that getting Tkachuk back under contract is cause for celebration in Calgary, but the new structure of these bridge deals is something to be concerned about for many teams. Introduced really for the first time by Timo Meier earlier this year, restricted free agents have found a way to create leverage for themselves as they near UFA status. Meanwhile those who sign long-term and give up UFA years like Mitch Marner are getting huge dollar figures right up front, meaning teams will have to be more and more conscious of leaving enough room to get their young players signed.
Photo courtesy of USA Today Sports Images