The Tampa Bay Lightning have signed restricted free agent Brayden Point to a three-year contract, ending the long negotiation in time for him to get on the ice before the season begins. Point's new contract will carry an average annual value of $6.75MM. GM Julien BriseBois explained his excitement for the deal:
We are very pleased to re-sign Brayden today. He is the consummate professional with an unwavering commitment to team success, growing as a player and improving every day. It is that mindset that makes him an outstanding role model, teammate and person, on and off the ice. We look forward to getting Brayden back on the ice with his Lightning teammates as soon as possible.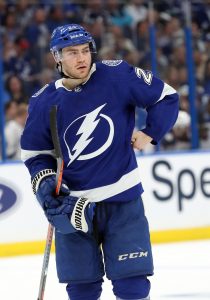 A three-year bridge deal continues the Tampa Bay tradition with their top players, and provides them with a chance to get some incredible excess value over the next few seasons. The Lightning have previously signed Nikita Kucherov and Andrei Vasilevskiy to similar three-year deals that turned out extremely well for the team before locking them into long-term contract extensions as they approached free agency for the second time. That's likely the same plan they have for Point, as this contract will leave him an RFA in 2022 though a $9MM qualifying offer will give Point a potential avenue to get to unrestricted free agency. Pierre LeBrun of The Athletic provides the full breakdown:
2019-20: $1.9MM salary + $4.25MM signing bonus
2020-21: $2.5MM salary + $3.5MM signing bonus
2021-22: $9.0MM salary
Even though they only lock him in for three years at this price, a $6.75MM salary seems incredibly reasonable for a player of Point's talents. The 23-year old center has transformed himself into one of the most dynamic two-way centers in the league, scoring 41 goals and 92 points last season while also being nominated for the Selke Trophy as one of the league's best defensive forwards. A third-round pick in 2014 that had questions around his skating and upside at the professional level, Point has improved dramatically every season and now has 91 goals and 198 points in 229 career regular season games.
This new salary does make Point the third-highest paid forward on the Lightning behind Kucherov and Steven Stamkos, but leaves the Lightning with some wiggle room under the cap. The team now projects to have about $1.7MM in cap space with a 23-man roster, something that seemed impossible at the start of the offseason. Tampa Bay recorded one of the best regular seasons in NHL history last year and will head into 2019-20 with a very similar group. Though Anton Stralman, J.T. Miller and Dan Girardi are gone, the team replaced them with names like Kevin Shattenkirk, Patrick Maroon and Luke Schenne. The fact that many of the team's other role players have been retained is a testament to how well the front office has navigated the cap over the last several years.
That difficult path won't end now though. With Point's deal in place and an extension for Vasilevskiy kicking in for 2020-21, the team will once again be facing a severe cap crunch. With that in mind, there will be even more pressure to perform this year and find more postseason success than they had in 2019.
With another RFA off the board, the focus now turns to Matthew Tkachuk, Mikko Rantanen, Patrik Laine and Kyle Connor to get contracts finalized before the season starts. Given Point's status as arguably the best (or at least most valuable thanks to his position) of that group, this deal should help provide a template for potential bridge deals in other cities. Mitch Marner, who signed a six-year $65MM deal recently, may give the other end of the spectrum and provide a template for a long-term deal.
Photo courtesy of USA Today Sports Images