With training camps in full swing, there was plenty of important news around the league including some big news away from the ice.  Here are the top stories from the past seven days.
NHLPA Declines Opt-Out: Roughly three weeks ago, the NHL decided to decline to use their reopener on the CBA which pushed the spotlight to the NHLPA.  While escrow is a big concern for the players, they've opted to decline their reopener as well.  This means that instead of the CBA expiring in September of 2020, it will now do so in September of 2022.  In the meantime, talks are expected to continue regarding extending the current agreement, a move that may be made with a few tweaks along the way with regards to escrow and potential Olympic participation.
Big Money For Chabot: The Senators have taken significant criticism when it has come to their spending in recent years, particularly this season where the cap hits of three forwards that are already done for the year (meaning insurance will fit most of the bill) surpass that of their entire defense corps.  However, owner Eugene Melnyk has promised to spend when the time is right and the team made a big step in that direction as they inked defenseman Thomas Chabot to an eight-year, $64MM contract.  It is the richest contract ever handed out by the Senators while also serving as the richest second contract given to a defenseman.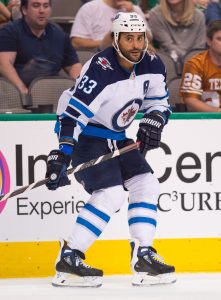 Byfuglien Pondering Future: Winnipeg's announcement that defenseman Dustin Byfuglien was taking a leave of absence at the start of training camp raised some eyebrows but at the time, head coach Paul Maurice called it "nothing sinister".  While the reason for it ultimately isn't sinister, it's still a big shocker as Byfuglien is pondering whether he wants to continue playing or not.  The 34-year-old battled multiple ankle injuries and a concussion last season but when healthy, he is a significant factor on the Jets' back end, one that has taken several hits already over the offseason.  The team has suspended Byfuglien for failure to report to camp, giving them the ability to remove him off their cap if he still isn't with them when the season gets underway.  If he does ultimately decide to walk away from the remaining $14MM on his deal (spanning the next two seasons), expect Winnipeg to quickly turn around and try to acquire a replacement.
RFA Signings: Not surprisingly, several restricted free agents agreed to new deals.  The Flyers locked up winger Travis Konecny to a six-year, $33MM deal.  The 22-year-old has scored 24 goals in each of the last two seasons and the deal buys Philadelphia two extra years of team control.  Meanwhile, Vancouver was able to agree to terms on a three-year bridge deal with winger Brock Boeser that carries a $5.875MM AAV.  Their salary cap situation largely forced their hand in this direction but it's worth noting that the final year salary is $7.5MM which will serve as his qualifying offer three years from now.  Boston also got a deal done with their lone remaining RFA as defenseman Brandon Carlo received a two-year, $5.7MM deal that is also back-loaded with a $3.5MM second-year salary that will be his qualifier amount in 2021.
Girardi Retires: Veteran defenseman Dan Girardi has decided to call it a career.  The veteran made a significant impact at the defensive end over his career with his physicality and shot-blocking prowess as he recorded over 2,000 career blocks in his 927 games played between the Rangers and Lightning while making the playoffs in all but one of his 13 seasons.
Photo courtesy of USA Today Sports Images.