The Arizona Coyotes have locked up top young forward Clayton Keller to an eight-year extension. The deal will carry a cap hit of $7.15MM. Keller was scheduled to become a restricted free agent next summer, but instead will sign long-term with the Coyotes. Arizona GM John Chayka released this statement:
Clayton is elite in every sense of the word. He is not only an All-Star and one of the premiere offensive playmakers in the league, but he is equally special as a person with his drive and determination to be great. We are thankful to Clayton for believing in our future and look forward to him playing a vital role on this team for many years to come. We are also very appreciative of Mr. Meruelo's willingness to invest in our future and solidify one of our core players here in Arizona for a long time.
In an unprecedented move, agent Scott Barlett released the full breakdown of the contract extension on Twitter. The deal will pay out as follows:
2020-21: $2.5MM salary + $3.0MM signing bonus
2021-22: $7.0MM salary
2022-23: $4.5MM salary + $3.0MM signing bonus
2023-24: $6.0MM salary
2024-25: $7.0MM salary + Full no-trade clause
2025-26: $7.0MM salary + Full no-trade clause
2026-27: $6.5MM salary + Full no-movement clause
2027-28: $6.7MM salary + Full no-movement clause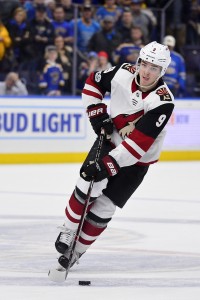 The 21-year old Keller has shown how good he can be in his young career, but this contract certainly doesn't lack risk for the Coyotes. In his rookie year in 2017-18 the 2016 seventh overall pick exploded onto the scene with 65 points in 82 games, but Keller took a large step backwards last season. With just 14 goals and 47 points in 82 games, his production fell far short of expectations and put him in a points-per-game bracket alongside players like Brett Connolly, Josh Anderson and former teammate Alex Galchenyuk. That was even despite seeing slightly more ice time on the powerplay and overall.
Still, the Coyotes are betting that Keller's first year is more indicative of his performance moving forward and it's easy to see why. After shooting 10.8% as a rookie, a more than reasonable number for a player of his skill, Keller's shooting percentage dropped all the way to 7.0% last season and should rebound considerably in the future. You can also bet on some natural development given his still very young age—he turned 21 just over a month ago. With strong possession numbers and a tantalizing skill set, the Coyotes may have a bargain down the line if he can continue to take steps forward.
That bet is exactly how the Coyotes have done business under Chayka. The GM has signed young players like Nick Schmaltz, Christian Dvorak and Jakob Chychrun to long-term deals before they really "proved themselves," knowing that if he waited they might price themselves right out of Arizona's market. The team can't throw money around like bigger organizations like the Toronto Maple Leafs and New York Rangers, but have shown a willingness to assume some risk on long-term deals in order to get who they believe are core players under contract.
Part of this contract is also likely a reaction to the restricted free agent market this summer. A dozen teams are in limbo waiting for their young players to sign, something that Chayka will now not have to worry about with regards to Keller. The team still has some who will need new deals, but if Keller performs as many believe he can he would have been the centerpiece of the entire 2020 offseason for Arizona. That time can now be focused on other things as they try to establish themselves as a playoff contender in the Western Conference with new additions Phil Kessel and Carl Soderberg giving them some more depth up front.
As for what this means for that current RFA market, it's unclear. We've heard all offseason how this class is set to re-establish the market for players coming off their entry-level deals, but Keller just sold four years of unrestricted free agency at a relatively low point in his negotiating leverage. Coming off a difficult season and still a year away, he decided to lock in long-term for a number that while substantial, is likely less than he could have gotten if he rebounded this year.
With Kessel now in the fold and Keller locked up, the Coyotes will now be expending quite a bit of capital on their forward group starting in 2020-21. The team will have more than $30MM tied up in five players including Kessel, Keller, Schmaltz, Dvorak and Derek Stepan, which doesn't leave a lot of extra money for the rest given their hefty expenditures on defense. It very well could mean there is a move coming at some point down the line to free up some space, especially with several veterans who are set to become unrestricted free agents in 2021.
Photo courtesy of USA Today Sports Images