Navigating the salary cap is one of the more important tasks for any GM. Teams that can avert total cap chaos by walking the tightrope of inking players to deals that match their value (or compensate for future value without breaking the bank) remain successful. Those that don't see struggles and front office changes.
PHR will look at every NHL team and give a thorough look at their cap situation heading into the 2019-20 season. This will focus more on those players who are integral parts of the roster versus those who may find themselves shuttling between the AHL and NHL. All cap figures are courtesy of CapFriendly.
Vancouver Canucks
Current Cap Hit: $76,441,539 (under the $81.5MM Upper Limit)
Entry-Level Contracts
D Quinn Hughes (two years, $917K)
F Elias Pettersson (two years, $925K)
Potential Bonuses:
Hughes: $850K
Pettersson: $2.85MM
Pettersson's deal is certainly quite the bargain.  The Calder Trophy winner burst onto the scene and immediately emerged as one of Vancouver's top forwards.  While he's still two years away from his second contract, his agent is undoubtedly keeping an eye on the top end of the current RFA market as Pettersson could very well approach a similar territory on his next deal.  The Canucks elected to burn the first year of Hughes' deal early to entice him to sign.  He projects to be the type of player that could get a significant second contract although he won't be eligible for an offer sheet in the 2021 offseason as a result of going this route.
One Year Remaining, Non-Entry-Level
D Alex Biega ($825K, UFA)
D Oscar Fantenberg ($850K, UFA)
F Josh Leivo ($1.5MM, UFA)
G Jacob Markstrom ($3.67MM, UFA)
F Tyler Motte ($975K, RFA)
F Tim Schaller ($1.9MM, UFA)
D Troy Stecher ($2.325MM, UFA)
D Chris Tanev ($4.45MM, UFA)
F Jake Virtanen ($1.25MM, RFA)
Up front, Virtanen is the most intriguing of the group.  He has shown flashes of putting it all together and showed some signs of improvement in 2018-19 en route to a career year offensively.  They have enough invested in him that they'll keep him around but another short-term deal is probably in the cards a year from now.  Leivo will be looking to use his first full season in Vancouver to his advantage and restore some value.  If he can produce at a similar mark as he did with the Canucks last season, he could be an intriguing under the radar UFA next summer.  Schaller's deal felt like an overpayment as soon as it was signed and it's safe to say he won't be re-signed.  He's a candidate to be on waivers in training camp.  Motte impressed in his first full-season look but is best served in a fourth line role.  That makes him a possible non-tender candidate with some of the youngsters they have in the system but if he is retained, it will need to come with a small raise.
Tanev was once a highly sought after trade candidate.  Since then, his value has dipped considerably as he has had trouble staying healthy.  He has missed at least 27 games in each of the last three seasons and has never played more than 70 in a season.  Players of his type aren't in as high demand as they were just a few years ago so, at this stage, the 29-year-old may be hard-pressed to match his current deal.  Stecher had a good bounce-back year in the first year of his bridge contract and a repeat performance could see him approach the $3.5MM or more mark on a new deal.  Fantenberg was brought in for depth and given their cap structure, he'll either be re-signed or replaced by someone willing to take a similar rate.  Biega is in a similar situation; while he has served as capable depth in recent years, he's not the type of player they'll want to give a tangible raise to.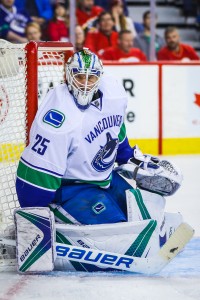 Markstrom's situation is a bit of an intriguing one.  Vancouver has their top goalie prospect now on the roster full-time so they'll want to give him plenty of playing time.  Accordingly, striving to get the top portion of a platoon may be all that Markstrom can get this season which would certainly be a step down after playing 60 games in each of the last two years.  He'll be 30 when he hits the open market, young enough that a multi-year deal at a raise is certainly something that would be justifiable for quite a few teams.  However, the Canucks may not be one of them.  There's a lot at stake for him in 2019-20.
Two Years Remaining
F Sven Baertschi ($3.37MM, UFA)
D Jordie Benn ($2MM, UFA)
G Thatcher Demko ($1.05MM, RFA)
D Alexander Edler ($6MM, UFA)
F Tanner Pearson ($3.75MM, UFA)
F Brandon Sutter ($4.375MM, UFA)
Sutter's contract is one that can now be said is going to hurt them.  When they had lots of cap flexibility, it wasn't as painful but now that they don't have that luxury, the fact that his performance has been more like a fourth liner is going to hurt.  They'd love to get out from under this deal but they'll need to attach a notable sweetener to do so.  Pearson struggled badly in Los Angeles and Pittsburgh last year but showed signs of life in Vancouver.  If he can get back to being a 20-goal player, he can get another contract like this one but if not, he'll be the type of player that will bounce around on one-year deals for a while.  Baertschi battled injury issues yet again.  When healthy, his contract is certainly reasonable but his ability to stay in the lineup will dictate if his next deal will see him get a raise or a pay cut.
Edler eschewed free agency to stay with Vancouver and it stands to reason that someone like Hughes will step into his role two years from now so his next deal (if there is one) should come in cheaper than this one.  Benn had a strong year with Montreal and earned himself a raise in the process but he will need to establish himself as a capable top-four option if he wants to find a way to another salary tier two years from now.
Demko has long been viewed as their goalie of the future.  His next deal could go all sorts of ways as a result.  If he gets lots of playing time over the next two years, he could jump into the $6MM to $7MM range if he fares well.  If Markstrom blocks him this coming season though, a one-year prove-it type of deal could be on the horizon.  It's also possible that what happens with Pettersson and Hughes could dictate which direction they go with Demko two summers from now.
Three Years Remaining
F Jay Beagle ($3MM, UFA)
F Loui Eriksson ($6MM, UFA)
F Antoine Roussel ($3MM, UFA)
Eriksson has vastly underperformed since joining Vancouver and this offseason, he voiced his frustration over his usage to the point where both sides are looking to find a trade.  Unless they're willing to take a similarly high-priced deal back in a return though, such a move is unlikely.  Unfortunately for them, the structure of the contract makes a buyout an unrealistic option as well.  Roussel's deal raised some eyebrows at the time but he actually gave them a reasonable return on it as he had a career-high in points despite missing 17 games.  If he can hang around the 35-point mark while bringing his usual level of physicality, this could be a pretty reasonable contract.  The same can't be said for Beagle as giving a fourth liner that much money and term was doomed to fail from the start.  If he makes it to the end of this deal without a buyout, it would be a bit of a surprise.
Four Or More Years Remaining
F Bo Horvat ($5.5MM through 2022-23)
F J.T. Miller ($5.25MM through 2022-23)
D Tyler Myers ($6MM through 2023-24)
Horvat logged heavy minutes once again last season but not many appreciate just how much he was used; his 20:50 ATOI was 16th in the league amongst forwards.  He also reached the 60-point mark for the first time and considering he's still just 24, there's reason for optimism that he can build on that.  He's positioning himself for a big raise on his next contract.  Tampa Bay was forced to move Miller for salary cap reasons although the Canucks still paid a big price.  He didn't have a great year with the Lightning but had seasons of 58 and 56 points before that, a level of production that justifies that price tag.  He could give the Canucks a big boost offensively next season.
Myers took advantage of a very thin UFA market and Vancouver's big need to add to their back end to land his deal.  There are concerns about the end of his contract considering the workload he has had over his career thus far but they should be able to get a few good seasons out of him.  It's far from a great contract but there are worse ones on this roster.
Buyouts
F Ryan Spooner ($1.33MM through 2020-21)
Retained Salary Transactions
None
Salary Cap Recapture
G Roberto Luongo ($3.033MM through 2021-22)
Still To Sign
F Brock Boeser
F Nikolay Goldobin
Boeser is one of the more notable RFAs out there although he's not at the top of the market.  He's also not eligible for an offer sheet.  Earlier reports suggested that Boeser was seeking $7MM per year with Vancouver coming in at $6MM per with a longer term.  While that means there's still some work to be done, it serves as a reasonable range to project from and anything in that range will result in them needing to jettison players to get back into cap compliance before even considering Goldobin.  The inconsistent winger actually finished seventh on the team in scoring last season despite not playing in 19 games.  It wouldn't be surprising if Vancouver was pointing to Virtanen's deal as a possible comparable but Goldobin may be seeking more than that as his 31 points are more than Virtanen has had in a single season.  No matter what, a short-term deal (no more than two years) is probable just to lessen their salary cap strain.
Best Value: Pettersson (Horvat among non-ELC players)
Worst Value: Eriksson
Looking Ahead
Even if veterans like Schaller and Biega are sent to the minors (pending waivers), there's a good chance that they'll need to free up a bit more cap space to fit in new deals for Boeser and Goldobin.  Moving one of Eriksson or Sutter would certainly be preferable but what is GM Jim Benning's willingness to do so, especially after ceding their 2020 first-rounder (lottery protected that year, unprotected in 2021) to get Miller?
The 2021 offseason will be a huge one with Pettersson, Hughes, and Demko among those needing new deals although they'll have a good chunk off the books by then as well.  Their long-term flexibility isn't bad overall with only three contracts extending past three years which is something a lot of organizations don't have.  That's cause for optimism down the road although some short-term pain appears to be on the horizon.
Photo courtesy of USA Today Sports Images.