Navigating the salary cap is one of the more important tasks for any GM. Teams that can avert total cap chaos by walking the tightrope of inking players to deals that match their value (or compensate for future value without breaking the bank) remain successful. Those that don't see struggles and front office changes.
PHR will look at every NHL team and give a thorough look at their cap situation heading into the 2019-20 season. This will focus more on those players who are integral parts of the roster versus those who may find themselves shuttling between the AHL and NHL. All cap figures are courtesy of CapFriendly.
Anaheim Ducks
Current Cap Hit: $72,999,758 (under the $81.5MM Upper Limit)
Entry-Level Contracts
D Brendan Guhle (one year, $697.5K)
D Jacob Larsson (one year, $894K)
F Sam Steel (two years, $863K)
F Troy Terry (one year, $925K)
Potential Bonuses
Guhle: $132.5K
Terry: $850K
The Ducks have several quality young players at their disposal but not a lot of vacant roster spots to work with so there could very well be a shuffle back and forth between Anaheim and AHL San Diego.
Steel and Terry both spent at least a quarter of last season with the Ducks and figure to get a long look at training camp.  Terry, in particular, should push for a bottom-six role which shouldn't have him in line for a significantly larger contract a year from now.  Steel has a chance to push for a better spot which could push his price tag higher if he can produce inside the top six with regularity.
On the back end, Larsson spent more than half of last year in Anaheim and if that happens again, he should get a bit of a raise on his next deal even if he does spend some time in the minors still as he'd be pushing 100 games of NHL experience.  Guhle is likely to be in the sixth or seventh role but while it would be his first real extended look in the NHL, that type of role only lends itself towards a one-year deal for next season at a marginal raise.
One Year Remaining, Non-Entry-Level
D Michael Del Zotto ($750K, UFA)
F Nicolas Deslauriers ($950K, UFA)
F Patrick Eaves ($3.15MM, UFA)
F Derek Grant ($750K, UFA)
D Jani Hakanpaa ($850K, UFA)
D Korbinian Holzer ($850K, UFA)
G Ryan Miller ($1.125MM, UFA)
F Devin Shore ($2.3MM, RFA)
F Daniel Sprong ($750K, RFA)
Potential Bonuses
Miller: $1.2MM
There aren't really any impact players in this group.  Eaves missed almost all of last season due to injury and may not play in 2019-20.  In that case, he'll be on LTIR and not brought back.  Shore has shown some flashes of offensive upside but with three straight seasons between 29 and 33 points, he shouldn't be looking at a big raise a year from now.  Deslauriers and Grant are veterans that are earmarked for the fourth line or depth spots and will likely be replaced by prospects at the expiration of their deals (if not sooner).
Similarly, Del Zotto and Holzer are basically placeholders for their prospects.  Both can hold their own on the third pairing but in the event either is retained for 2020-21, it should be at a similar price tag.  They surprisingly gave Hakanpaa a one-way deal despite the fact that the 27-year-old struggled several years ago in the AHL and didn't exactly dominate in Finland.  However, he's probably a depth signing as well that can be retained or replaced at that price.  Miller provides the Ducks with a capable veteran presence in the backup role assuming he stays healthy.  At 39, it's safe to say he's not in their long-term plans.
Two Years Remaining
F Ryan Getzlaf ($8.25MM, UFA)
F Ondrej Kase ($2.6MM, RFA)
F Nick Ritchie ($1.498MM, RFA)
F Carter Rowney ($1.133MM, UFA)
G Anthony Stolarz ($750K, UFA)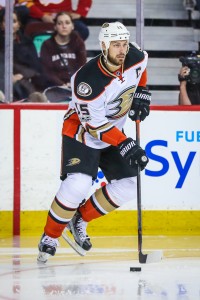 Getzlaf has been Anaheim's top forward for a long time now and even led them in scoring last season despite missing 15 games.  His days of being a top centre are basically over although that's likely the role that the 34-year-old will have heading into next season.  It's certainly quite possible that the Ducks will look to retain Getzlaf when his contract expires but with diminishing returns (and perhaps by then, a lesser role), any new deal would have to come at a considerable pay cut.  He'll have spent 16 years with the organization by the time his deal is up and the idea of playing his entire career with one team certainly has to be appealing.
Kase battled injury issues last season but was quite productive when he was in the lineup, collecting 20 points in just 30 games.  He's likely to see a fair bit of top six time next season and if he can continue to produce at that rate, he could be coming close to doubling his current AAV when he hits restricted free agency with arbitration rights.  Ritchie quietly held out until early into last season before signing but the lull didn't hurt too badly as he set a new career-best in points.  If he can creep closer to the 40-50 point mark, he'll get a big jump on his $2MM qualifier in 2020-21.  Rowney is a capable fourth liner but will probably be replaced from within when his deal is up while Stolarz appears to be the favorite to succeed Miller as the backup goalie when the veteran retires.  They may be able to afford a more expensive backup two years from now though so he may not be part of the long-term picture either.
Three Years Remaining
F Ryan Kesler ($6.875MM, UFA)
D Hampus Lindholm ($5.206MM, UFA)
D Josh Manson ($4.1MM, UFA)
F Rickard Rakell ($3.789MM, UFA)
Kesler underwent hip surgery back in May and his playing future is very much in question.  He's not expected to play at all in 2019-20 and will be LTIR-bound but it's quite possible that he has played his last NHL game.  While Rakell is coming off of a down year, he has already considerably outperformed his contract and should be in the $6MM-$7MM range on his next pact if he can get back to his output from the previous two seasons.
There's a case to be made that Lindholm is Anaheim's top all-around blueliner and getting a top pairing player at that price is quite a bargain.  He'll be 28 and in the prime of his career when he hits the open market so it's quite possible that he garners something closer to $8MM on his next contract.  Manson is still largely under the radar but has emerged as a capable second-pairing defender.  He showed some flashes of offense back in 2017-18 and will need to do so more consistently if he wants to get into that next tier of salaries.
Four Or More Years Remaining
D Cam Fowler ($6.5MM through 2025-26)
G John Gibson ($6.4MM through 2026-27)
F Adam Henrique ($5.825MM through 2023-24)
F Jakob Silfverberg ($5.25MM through 2023-24)
While Henrique and Silfverberg's deals can't be classified as extreme overpays, they're also far from great value.  Both players have shown flashes of top-six production but have yet to provide it consistently.  Having the two locked up at over $11MM could be tough to navigate when their cap situation gets tighter down the road.
Fowler's production has never really reached the levels that Anaheim was hoping for but he is nonetheless still a capable top pairing player.  As salaries for top-end blueliners soar, having him locked in at this rate is a bit of a bargain.
The biggest bargain could ultimately be Gibson, however.  He singlehandedly kept the Ducks in it through the first half of last season before fading a bit down the stretch.  Recent contracts for Sergei Bobrovsky ($10MM) and Andrei Vasilevskiy ($9.5MM) have been for considerably more than Gibson's AAV despite Gibson being pretty close to being in that tier of netminders.  Over the next few years, he'll eventually become one of the lower-paid starters in the league.
Buyouts
D Simon Despres ($663K per year payable through 2024-25; cap-exempt per CapFriendly)
F Corey Perry ($2.625MM in 2019-20, $6.625MM in 2020-21, $2MM in 2021-22 and 2022-23)
Retained Salary Transactions
None
Still To Sign
None
Best Value: Gibson
Worst Value: Kesler
Looking Ahead
With roughly $8.5MM in cap room for 2019-20 plus the ability to put Kesler and likely Eaves on LTIR, cap space won't be an issue at all for Anaheim next season.  However, the extra $4MM on Perry's buyout will hurt their flexibility for the following year.  (Considering their cap space, it's fair to wonder now if they'd have just been better off keeping Perry for this season and look at a buyout next summer when it wouldn't have been quite so cap-prohibitive.)
While they don't have much in the way of expiring contracts coming off the books, there aren't any prominent players that will need new deals next summer.  Anaheim can simply bring some of their prospects into those spots currently occupied by depth players and perhaps even save a bit of cap room in the process.  Kase and Ritchie should be more expensive two years from now but Getzlaf's expiring deal should give them some extra wiggle room there.
For years, Anaheim's cap situation has been a bit of a juggling act.  All of a sudden, they actually have a little bit of stability in that regard.  They're far from being in great shape long-term but they no longer are in a place where they'll have to cut from their current roster in order to keep other players in the fold.  That's a good step in the right direction for the Ducks.
Photo courtesy of USA Today Sports Images.