While Jason Pominville's best days are certainly behind him, the winger has continued to be relatively productive in recent years.  Despite that, he's still looking for a new contract more than a month into free agency.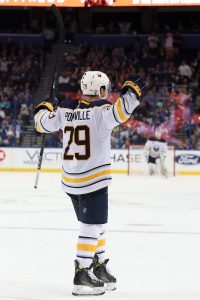 Although his ice time dipped considerably last season to just 12:28 per game, the 36-year-old still managed to score 16 goals for the second straight campaign and all but two of his 31 points came at even strength.  That makes him one of the better five-on-five players that's still available on the open market and while his days of being a top liner are gone, affordable secondary scoring is something that will be in demand in the weeks leading up to training camp.
Of course, there are some concerns to his play.  He's not the best two-way player, nor is he the fastest skater and given his age, Pominville doesn't have much time left in his career.  As a result, he's not going to be a fit in a top-six while teams that run a bottom-six group that's counted on to be defensively responsible probably won't show much interest either.  Nonetheless, given his track record of production, the veteran should have some suitors.
Potential Suitors
Teams in a few different situations could have interest.  A veteran team looking for some extra scoring help in the bottom six could have a use for Pominville, as could a team that's tight to the cap but is looking to add some extra depth.  On the flip side, even a rebuilding team could view him as a capable placeholder to allow a prospect more time in the minors to develop with an eye on potentially flipping him at the trade deadline.
In the East, a return to Buffalo doesn't appear to be likely given their cap situation.  Pittsburgh would be a potential fit if they wind up shipping out a bigger contract to free up enough room to re-sign defenseman Marcus Pettersson.  He'd play primarily in a lower role with them but has the offensive acumen to hold his own when moving up in the lineup.  If Justin Williams opts to not return to Carolina, Pominville could be a reasonable fit instead, albeit in a lesser role.  The Islanders are lacking some offense in their bottom six; although that is by design to some degree, having someone like Pominville would at least give them a bit more versatility.
Out West, Arizona has been on the lookout for more offensive depth which would make Pominville a potential fit.  However, they'd have to go into LTIR to sign him (Marian Hossa's deal still has two years left) which could be a concern if they believe Clayton Keller can reach some of his performance bonuses.  Dallas had an issue with secondary scoring last season (Pominville's goal total would have been fourth on the team) and while they've improved their forward group, more scoring depth would certainly be welcome.  Chicago could still have a bit of cap room left over once they re-sign Brendan Perlini and Pominville would give GM Stan Bowman some extra insurance in case some of his prospects need more development time.
Projected Contract
Pominville is heading for a significant pay cut.  He made $5MM in salary last season ($5.6MM cap hit) and he's probably not going to even get half of that on his next deal.  Getting one-third of that price point is the likelier scenario.  A one-year deal is a certainty which allows for the possibility of performance incentives which would make him a bit more intriguing to a cap-strapped squad.  A base salary around the $1MM mark with a chance to come close to doubling that in games played and production bonuses is something that a lot of teams could afford and could wind up providing a bit of value as well.  With the current state of the UFA market, it's hard to see Pominville getting much more than that.
Photo courtesy of USA Today Sports Images.