Things have largely slowed to a crawl in recent days with the RFA market seemingly holding up most of what's left on the UFA market.  Nevertheless, there were still a few notable headlines around the NHL over the past seven days.
Puljujarvi's Future: It's well-known that Oilers winger Jesse Puljujarvi is looking for a fresh start.  His agent Markus Lehto had stated that the RFA would stay overseas if Edmonton didn't trade him but there was no word on where he'd actually play in that instance.  That's no longer the case as Lehto indicated that Puljujarvi would play with Karpat Oulu in the Finnish SM-liiga.  He also noted that several teams have expressed an interest in acquiring the 21-year-old but didn't want to speculate as to whether or not a trade would get done.  Puljujarvi was the fourth overall pick just three years ago so it's certainly understandable that the Oilers are hesitant to move on from him.
Edmundson Award: There were three players that received salary arbitration awards with Blues defenseman Joel Edmundson being the most notable of them.  He was given a one-year, $3.1MM deal that will make him eligible for unrestricted free agency next summer.  The contract is only a raise of $100K but he is coming off of a bit of a down year that saw him be a healthy scratch at times.  St. Louis still has one more player to re-sign in center Ivan Barbashev but they have less than $2MM to get him signed and leave themselves with a bit of a buffer for any in-season movement.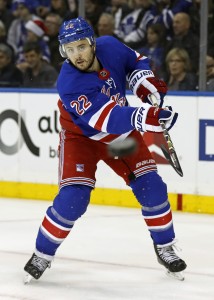 Shattenkirk To Tampa Bay: It didn't take long for Kevin Shattenkirk to find his new home.  Less than a week after being bought out by the Rangers, the defenseman signed a one-year, $1.75MM deal with Tampa Bay.  The deal also contains a full no-trade clause.  Shattenkirk has long been viewed as a quality offensive blueliner but struggled to produce with New York to the point where he was quickly dropped down the lineup last season.  He won't be under anywhere near as much pressure with the Lightning as he'll likely be asked to play a more limited role with some power play time.  The veteran will wind up receiving just over $3.1MM this season between the two teams which is less than half of what his original $6.6MM salary was before the buyout.
Ristolainen Trade Request? Sabres defenseman Rasmus Ristolainen has been at the forefront of trade speculation all offseason long, especially with the recent additions of Brandon Montour and Colin Miller who play the same side.  In an interview with Finland, the blueliner hinted that he has requested a trade although he wouldn't go into any specifics and stated that he'd keep talks between him and the front office private.  Ristolainen has three years left on his contract with a $5.4MM cap hit and while his defensive play has been called into question, he has four straight seasons of over 40 points under his belt and at 24, many teams – Buffalo included – will believe that there is still some upside.
Waddell Interviews For Minnesota GM Job: The fact that people are interviewing for Minnesota's vacant general manager position comes as no surprise.  However, when one of the people interviewing for that spot is currently working as a GM as Carolina's Don Waddell did, it certainly raises some eyebrows.  Waddell is without a contract at the moment and if Hurricanes owner Tom Dundon has his way, it will remain like that.  While Dundon is quite pleased with Waddell's work, he's not a big fan of contracts in general while he readily admitted that he won't pay market value for his employees which is why he allowed Waddell to interview for the role.  However, he is expected to remain with Carolina.
Photo courtesy of USA Today Sports Images.