Although the early part of August doesn't typically feature a lot of activity around the league, there were quite a few newsworthy headlines over the past seven days on top of a pair of late additions to the UFA market.
Callahan To Ottawa: The Senators have seemingly become a clearinghouse for injured players.  They already have Clarke MacArthur and Marian Gaborik in the fold and they will now be joined by Ryan Callahan as Ottawa acquired the winger in exchange for goalie Mike Condon.  In doing the deal, the Sens save nearly $2MM in actual salary as they're only responsible for 20% of Callahan's $4.7MM salary with insurance picking up the rest while Condon's $3MM price tag (in cash) goes to Tampa Bay.  Meanwhile, the Lightning free up $3.4MM in cap space (Callahan has a $5.8MM AAV with Condon at $2.4MM) which will help as they look to re-sign RFAs Brayden Point and Adam Erne.
Fenton Fired: It's extremely rare that a GM is let go midway through the summer but that's what the Wild decided to do as they relieved Paul Fenton of his duties after just over a year with the team.  Owner Craig Leipold indicated that there wasn't one specific thing or event that led to the decision but rather an accumulation of things over his tenure.  Minnesota made several puzzling trades, highlighted by dealing Nino Niederreiter to Carolina for Victor Rask.  Niederreiter did quite well with his new team while Rask continued to struggle.  Despite the trades suggesting they'd be rebuilding, Fenton was quick to give veteran winger Mats Zuccarello a new deal.  Assistant GM Tom Kurvers will handle the GM duties on an interim basis while the team looks for a successor.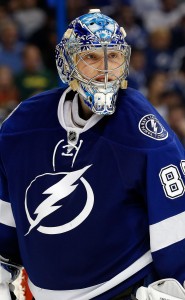 Vasilevskiy Extension: Tampa Bay has often tried to get its top players signed to extensions early and they've done so again.  Goaltender Andrei Vasilevskiy signed an eight-year, $76MM extension, making him the third-highest paid goalie (in terms of AAV) in the NHL once it kicks in for the 2020-21 season.  The reigning Vezina Trophy winner is coming off of a career season and is in his prime so there shouldn't be a lot of concern about falling off towards the end of the deal.  However, the Lightning, who already had to move out players for cap reasons, will almost assuredly have to do so again next offseason.  The team now has over $67MM in commitments to just 13 players for 2020-21, an amount that will only go up when Point eventually signs.
Gusev To New Jersey: When Vegas signed Nikita Gusev early in the postseason, their hope was that they'd be able to get him signed for next season.  However, the salary cap made that all but impossible unless they were to clear out some other players to free up cap room.  Instead, the opted to trade the 27-year-old Russian, dealing him to the Devils in exchange for second and third-round picks.  Gusev then quickly signed a two-year, $9MM deal.  He will add another gear to New Jersey's attack that certainly has been bolstered this offseason with the addition of top pick Jack Hughes, winger Wayne Simmonds, as well as defenseman P.K. Subban.
Seven For Girard: While Colorado remains in a waiting game when it comes to RFA winger Mikko Rantanen, they took care of some other business as they signed defenseman Samuel Girard to a seven-year, $35MM extension that will begin in 2020-21.  The 21-year-old has impressed over his first two NHL campaigns and was a key part of the return of the original Matt Duchene trade.  He'll likely push past averaging 20 minutes per night next season while he has shown signs of a developing offensive game.  Assuming he continues to hold down a spot in Colorado's top four, this deal should hold up well in terms of value as it progresses.
Photo courtesy of USA Today Sports Images.