Thursday: The Rangers have made the buyout official. Shattenkirk is now an unrestricted free agent.
Wednesday: The New York Rangers earned a second buyout window after settling all of their arbitration cases and will use it to open up some cap room. Brett Cyrgalis of the New York Post reports that the Rangers intend to buy out veteran defenseman Kevin Shattenkirk. He will not require unconditional waivers as he currently holds a no-movement clause. Shattenkirk had two years left on his deal which carried a $6.65MM cap hit. He will now become an unrestricted free agent while the Rangers will carry the following cap hits:
2019-20: $1,483,333
2020-21: $6,083,333
2021-22: $1,433,333
2022-23: $1,433,333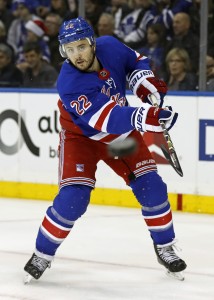 Shattenkirk, 30, signed a four-year deal with the Rangers in the summer of 2017 as one of the very best available unrestricted free agents. He was supposed to come in and provide the team with an offensive presence from the blue line, but struggled mightily in his own end and saw his production drop significantly. In 119 games with the Rangers over two seasons Shattenkirk recorded 51 points and was a -29. The right-handed defenseman also didn't fit in to the timeline the team had put together with their new young core, though his performance and lack of trust from head coach David Quinn likely made that a moot point.
For the Rangers, cap relief is the name of the game right now. After signing Artemi Panarin and Jacob Trouba to long-term contracts worth nearly $20MM per season, the team suddenly found themselves above the $81.5MM ceiling. A trade or buyout was necessary to get them back under that number and this will accomplish that. With Chris Kreider, Vladislav Namestnikov and others coming off the books after this season the team will be able to absorb the inflated cap hit of Shattenkirk in 2020-21, though it means they won't be able to do a ton of shopping next offseason.
Even though he's being cut loose by the Rangers, don't expect Shattenkirk to be unemployed for very long. The defense market didn't have a ton of talent in it this summer and while names like Jake Gardiner and Ben Hutton still remain unsigned, Shattenkirk immediately becomes the best right-handed option on the market. Even if he is no longer the play-driving force he was in St. Louis, there's still more than enough reason to believe that the 30-year old can still contribute in the right situation. Where that will be is unclear, as the Rangers tried and failed to trade him over the last several weeks (and perhaps months) without any luck.
Photo courtesy of USA Today Sports Images