The Toronto Maple Leafs and Ottawa Senators have finalized a trade that will see Nikita Zaitsev and Cody Ceci swap teams. The Maple Leafs will send Zaitsev, Connor Brown and Michael Carcone to the Senators in exchange for Ceci, Ben Harpur, Aaron Luchuk and a 2020 third-round draft pick (originally from Columbus). The trade had to wait until today so that Toronto could pay out Zaitsev's $3MM signing bonus, though technically that also meant he needed to waive the partial no-trade clause that has kicked in.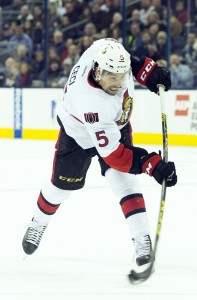 Zaitsev, 27, has five years left on his current contract and carries a $4.5MM cap hit, something the Maple Leafs needed to get out from under as they continue to work on an extension for restricted free agent Mitch Marner. The Russian defenseman signed a long-term deal with the club after an excellent rookie season in 2017 but saw his offensive numbers regress drastically as head coach Mike Babcock used him more and more in a shutdown role. That role never seemed like a perfect fit for the smooth-skating Zaitsev, who is used much more offensively at the international level with the Russian national team.
A capable penalty killer, he immediately becomes the Senators' most expensive defenseman and reunites with former Maple Leafs assistant coach D.J. Smith who is now the boss in Ottawa. Zaitsev will likely be leaned on heavily for the Senators, who have plenty of inexperience on their blue line at the moment.
If not for this trade Ceci, 25, would have become the highest paid defender for the Senators as he was a year ago. Sitting currently as a restricted free agent he does have the option to file for salary arbitration but could also just elect to accept his $4.3MM qualifying offer. That may be the more prudent decision in this case, as heading to arbitration likely gives the Maple Leafs a chance to walk away from the decision altogether. It's not clear what Toronto's plans for Ceci are at this point.
Of the other pieces in the deal, Brown is clearly the most valuable. The bottom-six forward is heading into the final year of his current contract that carries a $2.1MM cap hit but is a useful player that can contribute in various situations. A 20-goal scorer as a rookie in 2016-17, the last two seasons have seen his goal totals drop dramatically as more talent was brought into the Toronto lineup. The sixth-round pick eventually found himself suiting up most nights on the fourth line, though he was still a favorite of Babcock's on the penalty kill. The 25-year old will likely receive a bigger opportunity in Ottawa and could set himself up for another solid contract next summer with some improved offensive numbers.
Ottawa GM Pierre Dorion released a statement on his newest players:
"We're bringing in highly competitive players that we like as long-term fits for our team. Both are the type of true professionals who match with the culture we want to put in place here in Ottawa,. Nikita is a physical right-shot defenceman who defends hard, fills lanes and blocks shots. Connor has scored 20 goals in the league and is excellent on the forecheck and the penalty kill. We feel both players will add to our depth and fit well within the structure we want our team to play.
Photo courtesy of USA Today Sports Images