It seemed a good bet that Pat Maroon would re-sign with the St. Louis Blues for the 2018-19 season, after taking less money to be closer to his son last year. It worked out for everyone involved as the Blues would end up winning the Stanley Cup with Maroon in the lineup, but their interest hasn't been clear in re-signing the veteran power forward. Now, Jeremy Rutherford of The Athletic provides an update on Maroon's free agency, indicating that he has several one-year offers from around the league but is waiting for the right fit and at least a "couple years." Rutherford tweets that the Blues have limited interest.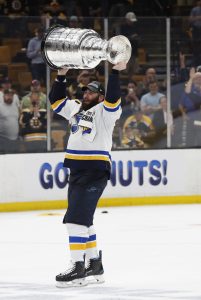 Maroon, 31, finished the season with 28 points in 74 games for the Blues but was a key part of their Stanley Cup run. Scoring two game-winning goals against the Dallas Stars including the series-clinching effort in double overtime of game seven, the team may have never gotten past the second round without him. Still, his offensive production does seem to be on the decline after tallying just ten goals in the regular season, and at his size teams may be wary of his game completely falling off a cliff.
The 6'3″ 225-lbs forward is something of a throwback to a past era of NHL hockey, slower than many of his teammates but still talented and big enough to get to the right spots at the right times. Elliotte Friedman of Sportsnet quoted an NHL executive that explained Maroon is "a dinosaur, but there's no one left who knows how to play against a dinosaur."
In 449 career regular season games, Maroon has recorded 206 points. He scored 27 goals in 2016-17 with the Edmonton Oilers, and set a career-high in points with 43 the following year. If a team can get that kind of production out of the "Big Rig," he would likely be worth whatever contract he has to settle for; whether that can realistically happen at this point is the question.
Photo courtesy of USA Today Sports Images