Topics in this edition of the PHR Mailbag include Nathan MacKinnon's contract, free agent targets for St. Louis, offer sheets, the Rangers, Artemi Panarin's next contract, Boston and Buffalo's summer plans, what Will Butcher's next deal may cost, Darcy Kuemper's trade value, and Ottawa's potential for taking on a bad contract via trade.
M34: I can't fathom MacKinnon playing out his entire contract at its current number. What happens first, a restructure or a holdout? And when?
While MacKinnon is on a very team-friendly deal, he has no available recourse here unlike if he was in the NFL or MLB.  Section 11.10 of the CBA states that contracts cannot be renegotiated.  As for holding out, while it's technically possible, Colorado's response would simply be to toll the contract for failure to report which would wind up extending the contract.  That's what the Islanders did with Evgeni Nabokov years ago after he failed to report to them upon being claimed off entry waivers from Detroit.
MacKinnon's only real option is to play out the contract and get to unrestricted free agency in 2023 where he can try to make up for missing out on bigger money as a restricted free agent.  In the meantime, his deal (and Mark Scheifele's in Winnipeg) will be at the forefront of the minds of those in this RFA class as it will serve as a reminder of the downside of taking a long-term deal over getting to UFA eligibility quicker.
haubrick4: With the Blues so close to the cap, who do you see them targeting in Free Agency to fill out the roster?
Not a whole lot, to be honest.  I don't think they're in particularly rough shape when it comes to the Upper Limit; they'll be able to get the rest of their restricted free agents signed without much difficulty.  However, they won't have a lot of room left to supplement their roster with players on the open market when all is said and done.
I could see them trying to bring Patrick Maroon back.  Failing that, a similar player (someone like Wayne Simmonds) comes to mind.  Beyond that though, their roster will pretty much be filled out once they re-sign their own free agents.  I wouldn't be surprised if their focus on Monday will actually be signing defensemen that will be ticketed for the minors as their depth is a little thin there.
ThePriceWasRight: With the Sens being under the floor, rumours of Ceci and Boedker being shopped and tons of draft pick capital in 2020, are the Sens not a prime contender to dole out an offer sheet to an RFA?
While it's true that Ottawa has plenty of cap space and all of their own top draft picks available to them (the ones that would be needed for an offer sheet), I think they're anything but a prime contender for an offer sheet.
Yes, they have the cap room to make an above-market offer to try to lure a top RFA like Matthew Tkachuk or Mitch Marner but it's pretty clear that they don't have the budget room.  Ottawa is likely to look to add a cheap veteran or two to get above the Lower Limit of the cap but with where they are in terms of their rebuild, that's about all the spending that would really be justified.
There's no denying that adding a top RFA to their roster would improve them, but would doing so vault them into a playoff spot?  Probably not.  An offer sheet for a Tkachuk or a Marner would cost multiple first-round picks.  All of a sudden, they're in another situation where they don't have an unprotected lottery pick.  There's always a risk to offer sheeting a prime player but for a team like Ottawa, the risk would be even higher.  They'll stay away from one for now.
met man: Who will be the "backup "goalie on the Rangers next season?
I don't think it will be the same player all season.  Both Alexandar Georgiev and Igor Shesterkin are waiver exempt which gives New York some options.  Georgiev certainly has done enough to earn a spot while Shesterkin's upside is certainly intriguing.  One of them has to go down though as carrying three goalies isn't a viable option and Henrik Lundqvist isn't going anywhere.
Let's get back to the waiver exemption.  My prediction on what will happen is that the goalies will go back and forth throughout the season.  That will give them some time with the Rangers (and perhaps lighten Lundqvist's workload) while still giving them some extra ice time in the minors.  I'm not a fan of having a young netminder playing just 20 or 25 games while they can be in the AHL so this scenario is the next best option – they get some NHL time but also get to play in Hartford and see their workload get closer to 40 games apiece.
CoachWall: Do the Rangers have enough assets to make a run at a top-six forward? How seriously do they go after Panarin?
In terms of trade currency, they certainly do.  GM Jeff Gorton has done a nice job of restocking their prospect pool to the point where they could deal a prospect or two away and get a top-six piece with some team control in return.  That said, I'd question if that's the right move for them.
The Jacob Trouba acquisition really didn't cost them much – just a few months of a player they weren't going to re-sign anyway in Kevin Hayes plus Neal Pionk, a capable player but not one with top-pairing ability or potential.  That didn't really jeopardize their future so why not make that move?  But moving out some prospects carries some more risk, one they don't necessarily have to take.
I like the free agent market for top-six help on the wings.  Panarin is certainly at the top of the list but there are some other options out there such as Anders Lee, Mats Zuccarello, and Gustav Nyquist, among others.  If they've decided that the rebuild is finished, going that route would be preferable to giving up pieces of your future.
Speaking of Panarin…
Dylan: Has the Karlsson signing possibly paved the way for Panarin to become the highest paid player in the league?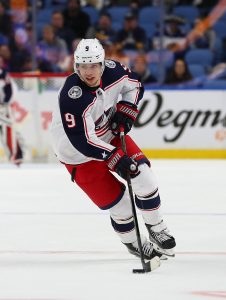 A couple of weeks ago, I sat down and mapped out my rankings and contract projections for free agents and in there, I initially had Erik Karlsson getting the biggest AAV so I'll stick with that call here.  I wouldn't be entirely shocked if Panarin eclipses an $11.5MM cap hit but he has some factors working against him, including the fact that he doesn't play a premier position (center or defense).
I would be more than shocked if he gets more than Connor McDavid ($12.5MM).  He's one of the best players in the league (if not the best), plays a premium position, is still young enough that there's room for improvement, and he has outscored Panarin in each of the last three seasons.  If Paul Theofanous can somehow get Panarin more than McDavid despite all of that, give him the Agent of the Year award right then and there (as soon as someone actually creates that award).  He'll probably be the highest-paid winger when all is said and done but not the highest-paid player.
sovietcanuckistanian: Since they just fell short, do the Bruins re-tool/tweak? Or (Backes being shown the door notwithstanding) make a (semi?) major change to try and get over the top?
First off, I don't expect David Backes to be on the move.  A buyout wouldn't yield much in the way of cap savings due to the structure of the deal – they'd only save $333K for 2019-20 and $2.333MM for 2020-21 (and then would add on $667K for two years after that).  That's not enough cap savings to make that a justifiable option.  If a team wants to swap undesirable contracts hoping that a change of scenery makes a difference, then perhaps Backes goes but otherwise, he should be back.
I don't expect big changes in Boston.  GM Don Sweeney has largely been patient and while they came up just short of winning the Stanley Cup, he has to be pleased with how his team performed.  The core is set to return and by the time they re-sign their restricted free agents, there won't be a lot of cap room left.  A minor tweak or two on the depth front is certainly an option (if not likely) but I wouldn't count on much more than that.
LarryJ4: With the money going to Skinner should the Sabres go in win-now mode and move someone like Alex Nylander for a more proven top six aka Kessel?
The Sabres are certainly trying to be more of a win-now team.  They've made some nice moves on their back end dating back to the trade deadline with the additions of Brandon Montour and Colin Miller.  So, sticking with that approach, going after someone like Phil Kessel would certainly make some sense.
However, Alexander Nylander isn't going to be the centerpiece of a deal to land a player like Kessel.  While he has shown some flashes of top-six upside at times, he also has struggled in his brief NHL action and inconsistency has hurt him at the minor league level.  His trade value probably isn't the highest right now and while he could be a secondary part of a trade, he isn't going to bring a ton back on his own.
Similar to my comment about the Rangers earlier, I'd stick to the free agent market if I was GM Jason Botterill and look into a secondary scorer.  While they have a few restricted free agents to re-sign, there should be enough left in the budget to add one of those which would give their lineup another boost heading into next season.  And if they do want to do the trade route, the additions of Montour and Miller could make Rasmus Ristolainen more of an option to go.
The Mistake of Giving Eugene Melnyk's a Liver Transplant: What would a bridge contract look like for Will Butcher? Also, what is Darcy Kuemper's trade value right now a middle 2nd? A late 1st? Finally, why doesn't Ottawa weaponize its cheapness? Go out and get players that other teams are going to buyout and take on those contracts and keep them in exchange for picks? Is it that teams aren't willing to pay a large enough price or is it that Ottawa is too dumb to even begin to think about something that has any modicum of complexity to it?
With Butcher only having two years of NHL experience instead of three, that may wind up keeping his AAV lower than if he had three years with the type of production he has under his belt.  I like Brandon Montour as a comparable player with the more limited sample size and while Montour is the better defensive player, Butcher has more production.  Montour's cap hit percentage on his current deal is 4.26% which would amount to a little under $3.5MM on the current Upper Limit.  A two-year bridge contract probably slots in between there and $4MM per year.
I don't think Kuemper's trade value is particularly high at the moment.  That's nothing against him either as he's certainly coming off a strong season with Arizona.  But there aren't many teams that would look at him as a starter and those that need one will first try to fill that role in free agency.  Teams that view him as a backup would probably first prefer to go to the open market over surrendering an asset or two for Kuemper who has just one year left on his deal.  His actual trade value is probably only a mid-round pick at the moment as a result of all of the other options out there so holding onto him makes a lot more sense for the Coyotes.
As for weaponizing their cap space as an asset, it's something that is easier said than done which is why there haven't been a lot of those moves made in recent years.  What is fair market value in terms of paying salary to an unwanted player in order to acquire a more coveted prospect or draft pick?  It's still largely being defined; look no further than the Patrick Marleau trade last weekend.  At this point, cap-strapped teams are still trying to offload bigger contracts which, given Ottawa's budget, isn't something
unfazed: Where does everyone think Panarin ends up this season?
There appear to be a few realistic options for him.  The Panthers and Islanders appear to be trying to land him and Sergei Bobrovsky as a package deal which is an intriguing (and very expensive) option.  The Rangers have some interest in him as well while some reports have the Avalanche as a team with an outside chance.
Out of those teams, I think Florida is where he ultimately lands.  He'd be reunited with head coach Joel Quenneville who had him in Chicago where Panarin started his career.  The tax situation (no state tax) is certainly to his benefit as well while he'd also be in a spot where he wouldn't necessarily have to drive the offense as much as he did with the Blue Jackets.  Put him on a line with Aleksander Barkov and the sky is the limit which makes the Panthers too tough to pass up on.
Photo courtesy of USA Today Sports Images.