The Nashville Predators have been linked to free agent Matt Duchene and need to sign an extension with captain Roman Josi, but they'll have to clear some cap space to accomplish either one. That's drawn plenty of speculation about who the team could move out this summer, with Kyle Turris' name leading the way after a disappointing season. Bob McKenzie of TSN however tweets that's not the only Predator out there, as he's heard P.K. Subban's name "floating around" as well. McKenzie makes sure to clarify that there is no guarantee of a Subban trade, and that makes sense given the complexity of any deal for the star defenseman.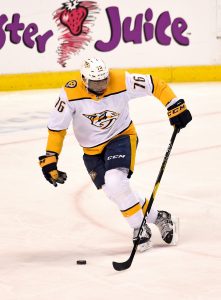 Subban, 30, is one of the league's highest paid defenseman and comes with a $9MM cap hit for the next three seasons. That includes $10MM in actual salary this year, a contract that many teams wouldn't be able to afford given the cap struggles throughout the league. Still, Subban was traded once before while carrying that cap hit even when the ceiling was lower, and his offensive upside is still likely an attractive proposition for teams looking to contend. Though he played just 63 games for the Predators in 2018-19, the Norris-winning defenseman recorded 31 points and averaged close to 23 minutes a night. Subban has been criticized his whole career for playing dangerously, but still drives possession at an elite rate and can be a game-changing force on the right side.
It is important to note that though Subban once held a full no-movement clause, the Predators did not honor it after he waived it to come to Nashville in the first place. That means the veteran has zero trade protection in his contract at all and would have to accept a deal anywhere in the league. The Predators currently project to have around $6MM in cap space for this summer, but will need to open more room if they plan on being big spenders in free agency.
GM David Poile has never shied away from making big trades, but finalizing a deal including Subban does seem difficult given the league has not officially decided on the salary cap ceiling for next season. Though front offices around the league are generally aware of where it might land, it is not expected to be finalized until Saturday, during the second day of the draft. Acquiring a contract like Subban's would require careful financial consideration for most teams, perhaps limiting the chance of something going down on day one.
Photo courtesy of USA Today Sports Images