With the Stanley Cup Final nearing its end, activity on the transaction front has started to pick up around the hockey world.  Here are the top stories from the past seven days.
Crawford To Chicago: The Blackhawks brought some experience to their coaching staff as they hired Marc Crawford as an assistant coach.  The 58-year-old has plenty of experience as he has over 1,100 games in the NHL as a head coach, most recently with Ottawa on an interim basis after Guy Boucher was let go shortly after the trade deadline.  Crawford will be reunited with his son who works as an assistant video coach in Chicago.  Meanwhile, with Crawford not returning to his previous role in Ottawa as an associate coach, the Senators have brought in Jack Capuano, who was let go as Joel Quenneville overhauled the coaching staff in Florida.
Flyers Acquire Hayes: Philadelphia GM Chuck Fletcher has decided to try to get a head start on his offseason shopping, acquiring the negotiating rights to pending UFA center Kevin Hayes from Winnipeg in exchange for their fifth-round pick.  Hayes is coming off of a career season split between the Jets and Rangers and is one of the top centers that's set to be available this summer.  Winnipeg knew that they wouldn't be able to afford to keep him so they get something instead of nothing while if Fletcher can get Hayes signed, he'll have filled one of their biggest needs, finding a second-line center to sandwich between Sean Couturier and Nolan Patrick.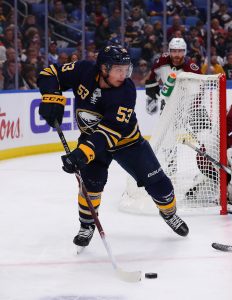 Skinner Re-Signs: Talks between the Sabres and Jeff Skinner had been going on for months but they finally reached an agreement on a new contract, one that will pay the winger $72MM over eight seasons with a full no-move clause.  The 27-year-old reached the 40-goal mark for the first time but on the flip side, he was a lot more productive in the first half of the season compared to the second.  Nonetheless, he has averaged 30 goals per year over the past six seasons and not too many forwards can say that.  The deal ensures that Buffalo has another part of their front line locked up long-term and takes what would have been one of the top free agents off the market before he even got a chance to test it.
Stars Re-Sign A Pair: Dallas decided to get some of their re-signings out of the way early.  First, they re-signed pending UFA defenseman Roman Polak to a one-year, $1.75MM contract, a $450K raise on his previous deal.  Polak logged over 19 minutes a night for the Stars and he'll give them a veteran presence on the third pairing for at least one more season.  Hours later, they re-upped winger Mattias Janmark to a one-year, $2.3MM deal, matching his 2018-19 salary.  The 26-year-old set a new career high in assists but struggled overall, posting just six goals on the season.  This contract will take him to UFA eligibility next summer.
Ducks To Part Ways With Perry: Corey Perry has been a fixture in Anaheim's lineup since 2005, back in the days when they were known as the Mighty Ducks.  However, it appears his tenure with the team has come to an end as the team is planning to move on from him this offseason.  Injuries limited the winger to just 31 games this past season and he struggled offensively, collecting just six goals and four assists.  He has two years remaining on his contract with a cap hit of $8.625MM and a full no-move clause.  The Ducks will try to trade him first (likely with significant retention – they can hold back up to half of his contract in a swap) but if that doesn't come to fruition, a buyout appears to be the likely outcome by the end of the month.  Doing so would yield a cap hit of $2.625MM next season, $6.625MM in 2020-21, and $2MM in each of the following two seasons.
Photo courtesy of USA Today Sports Images.