The Dallas Stars are bringing back one of their free agent defensemen, inking Roman Polak to a one-year extension. The deal will pay Polak $1.75MM for the 2019-20 season, a slight raise over the $1.3MM he earned last year. Stars GM Jim Nill released a statement on the veteran defenseman:
Roman personifies what it means to be a professional and his mentorship to our younger players proved to be invaluable to our organization. His team-first attitude and physical style of play is endearing to both his teammates and the coaching staff, and we're thrilled to have him back.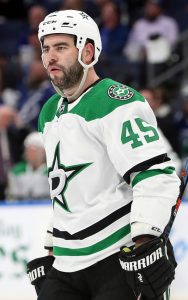 Polak, 33, has been something of a hot topic among fans over his career, as his style of play results in two extremes. On one hand, he is a huge physical presence in his own end that can bury the opposition's best players and protect the front of his net, but on the other he spends much of his time there because he lacks the skills to get the puck out efficiently. While his possession numbers have always been poor, Polak has continuously been a favorite of his coaching staff wherever he goes as a defensive weapon at even strength and on the penalty kill.
This season, Polak suited up 77 times for the Stars and recorded just nine points, but was still given plenty of responsibility when the playoffs rolled around. Averaging more than 19 minutes a night, he led Dallas in hits and was second in blocked shots through their 13-game run.
Polak's run in Dallas has come after stints in St. Louis, Toronto and San Jose, and will likely see him eclipse the 800-game mark during the upcoming season. For a sixth-round pick that is already excellent, but is even more impressive after the brutal injury he suffered in the 2017 playoffs. Polak was hit by Washington Capitals defenseman Brooks Orpik and broke his leg, ending his playoff run with the Maple Leafs. He would rehab diligently and eventually re-sign with Toronto for part of the 2017-18 season, playing 54 games and all seven in their postseason series that year. With that injury behind him, he can continue his career in Dallas and provide the physical counterbalance to offensive defensemen like John Klingberg and Miro Heiskanen.
Photo courtesy of USA Today Sports Images