A very tight Stanley Cup Final has come to an end with St. Louis needing seven games to beat Boston for their first championship.  With that now complete, the action has started to pick up off the ice already.  Several key moves highlight the top stories of the past week.
Niskanen To Flyers: It wasn't even 24 hours after the end of the Final before the first trade was announced as the Capitals dealt Matt Niskanen to the Flyers for Radko Gudas in a swap of defensemen.  Niskanen has been a capable top-four blueliner for quite a few years now but with two years and $11.5MM left on his contract, it was more than Washington could afford.  Philadelphia also retained 30% of Gudas' deal to help facilitate the trade.  Capitals GM Brian MacLellan wasted little time spending a big portion of his savings as he locked up winger Carl Hagelin to a four-year, $11MM deal.
Rule Change Recommendations: There have been small tweaks to the rules for several years now and it appears the trend will continue after the Competition Committee made its recommendations for next season.  The big one is expanded use of video review although no specifics were made with regards to what may be added to the list of reviewable plays.  Other recommendations made involved a change to the tie-breaking procedure at the end of the season, using regulation wins instead of regulation and overtime wins (ROW), a rule that would require players losing their helmets to leave the ice, and faceoff placements.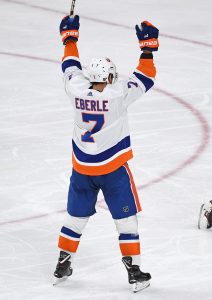 Eberle Re-Signs: The Islanders entered the summer with three prominent forwards in need of new contracts.  Brock Nelson re-signed quickly.  Now Jordan Eberle is off the market as well after he inked a five-year, $27.5MM extension.  The deal actually represents a small dip from the $6MM he averaged on his last contract.  Eberle is coming off the worst season of his nine-year NHL career, one that saw him record just 37 points in 78 games although he turned things around in the postseason, leading the team in scoring with nine points in eight contests.  While the 29-year-old is no longer a top-line talent, he should still be a part of New York's second line for several more seasons.
Blackhawks Acquire Maatta: There was an expectation that changes would be coming in Pittsburgh and the first of those occurred when they shipped defenseman Olli Maatta to Chicago in exchange for winger Dominik Kahun and a fifth-round pick.  The 24-year-old Maatta is coming off of a down season that saw him spend a bit of time as a healthy scratch and with three years left on his deal at a $4.083MM cap hit, he was too expensive for the cap-strapped Penguins.  He can make a push for a top-four spot with Chicago while Kahun, who is coming off of a nice rookie season, gives the Penguins a nice boost to their middle-six group at a price tag below $1MM for next year.
Rutherford: Kessel Trade Unlikely: Speaking of the Penguins, there has been plenty of speculation that winger Phil Kessel would be on the move this summer, especially after word leaked about a deal to Minnesota that he nixed.  Now, GM Jim Rutherford stated that Kessel will now likely remain with the team for next season.  Kessel can block a trade to 22 teams and clearly, he's shown that he's willing to use it which means his trade market is rather limited.  Nonetheless, even with that declaration, things could certainly change quickly with the draft now less than a week away.
Photo courtesy of USA Today Sports Images.