The New York Islanders have locked up another one of their pending free agent forwards, this time agreeing to terms with Jordan Eberle on a five-year contract. Elliotte Friedman of Sportsnet reports the deal comes with an average annual value of $5.5MM. CapFriendly provides the full breakdown:
2019-20: $5.25MM salary + $2.0MM signing bonus + full NTC
2020-21: $4.75MM salary + full NTC
2021-22: $7.0MM salary + 16-team NTC
2022-23: $4.75MM salary + 16-team NTC
2023-24: $ 3.75MM salary + 16-team NTC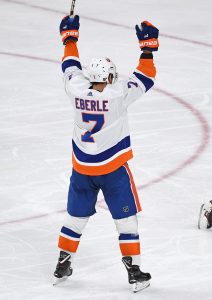 Eberle, 29, has played two seasons with the Islanders since being traded by the Edmonton Oilers in the summer of 2017 . He was scheduled to be one of the top options in free agency this season even with his relatively down year, but will now be relied upon as a core piece of the Islanders moving forward. His $5.5MM cap hit is actually a slight drop from the six-year $36MM deal he had been playing under previously, but still puts him right behind Brock Nelson as the second highest-paid forward on the Islanders for the time being.
That kind of commitment comes even after Eberle struggled at times this season. With new head coach Barry Trotz installing a more rigid, defensive structure, Eberle's offensive production dropped to just 19 goals and 37 points in 78 games. Some were questioning whether he could be the same impact forward he had shown in the past, but an impressive playoff run with nine points in eight games seems to have convinced the team he can. It's not like he doesn't have a solid resume, as Eberle had recorded at least 20 goals in each of the previous five seasons and reached a career high of 34 in 2011-12 with Edmonton. Still remembered for his World Junior heroics, the now-veteran forward has a knack for scoring important goals at opportune times.
This contract is interesting however, given the Islanders still have not announced an extension for captain Anders Lee. GM Lou Lamoriello has now handed out new expensive deals for Eberle and Nelson, the two pending free agent forwards who seemed more likely than Lee to hit the open market. The team still has more than enough cap space to make a deal with Lee—and goaltender Robin Lehner—work, but if they want to be aggressive on any of the other names in free agency they'll have to be careful how much they commit.
Photo courtesy of USA Today Sports Images