With the postseason down to just two teams, many squads are now well into their offseason planning.  What storylines lie ahead around the league in what is shaping up to be a likely busy NHL offseason?  Next up in our Offseason Keys series is a look at the Tampa Bay Lightning.
Even with the surprise resignation by Steve Yzerman as GM for Tampa Bay before training camp, things pretty much went the way of the Lightning during the regular season.  They were the class of the league and it wasn't even close.  They were a popular pick to contend for the Stanley Cup and then within a week, it was all over as they were swept at the hands of the Blue Jackets.  Now, GM Julien BriseBois must figure out what went wrong and make some tweaks to a roster that didn't appear to have a whole lot of holes heading into the playoffs.  Here's what they need to accomplish this offseason.
New Deal For Point
Back in 2017-18, Brayden Point cemented himself as a key part of the team after posting 66 points.  He was a big part of their secondary scoring and it looked he'd anchor the second line.  No one's thinking that now.  He exploded with a 92-point campaign that put him tied for 12th in scoring league-wide.  Instead of thinking he could be a secondary producer for the Lightning, he's now a bona fide front liner.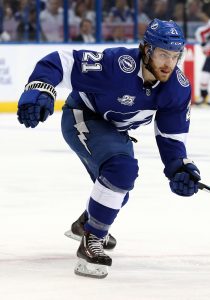 Tampa Bay has benefited considerably from him being on his entry-level deal, one that made him arguably the best bargain in the entire league in 2018-19.  That's about to change.  He is among the class of high-end restricted free agents this offseason and is about to get a massive raise.
Given Tampa Bay's salary cap situation (more on that shortly), he has been a speculative offer sheet target.  While that probably won't happen, his case will still be interesting to follow.  While most – if not all – of the other major RFAs will sign long-term deals, Point could be forced to settle for a bridge contract.  It's not like there isn't precedent for doing so with a top player either as Nikita Kucherov just wrapped up his three-year bridge deal this past season.  A long-term pact will be desirable for both sides but it will take some roster manoeuvering from BriseBois to give them a shot at making that happen.
Clear Cap Room
Speaking of that roster movement, that's almost assuredly going to involve Ryan Callahan.  The veteran winger is entering the final year of his contract with a $5.8MM cap hit.  He spent time as a healthy scratch in 2018-19 and didn't make much of an impact when he was in the lineup.  They badly need to clear out his contract and will be faced with figuring out the lesser of two evils – do they trade him with an incentive (assuming he waives his partial no-trade clause) or buy him out and carry two more years of him being on the books at a reduced cap hit ($2.567MM in 2019-20 and $1.567MM in 2020-21)?
Doing that may not even be enough.  As things stand, Tampa Bay has over $74MM tied up in 17 players for next season, per CapFriendly.  They have some work to do on their back end and Point's new deal will be pricey, even if it's a short-term pact.
With that in mind, it wouldn't be surprising to see them shop one of their other mid-tier veterans.  J.T. Miller ($5.25MM for four more years), Tyler Johnson ($5MM for five more seasons), and Alex Killorn ($4.45MM for four more years) all hit the 40-point mark in 2018-19 and would be good secondary scorers on a lot of teams.  They do that already in Tampa Bay.  But a younger player like Anthony Cirelli or Mathieu Joseph is ready to step into a larger role for a fraction of the price.  Moving one of those veterans out would free up a spot for one them to take on that extra responsibility and would give them a lot more wiggle room on the cap in the process.
Add Defensive Help
Tampa Bay's back end is going to look a whole lot different next season.  Anton Stralman, Braydon Coburn, and Dan Girardi are all unrestricted free agents and aren't likely to return.  That's basically half a blueline corps that needs replacing.
Some of that will come from within.  Jan Rutta, a midseason acquisition for depth purposes, was already re-signed after he agreed to a $950K pay cut.  After being in and out of the lineup upon being recalled, he'll likely play a regular role next season.  So too will Erik Cernak, who started out as the number seven and consistently worked his way up the lineup.
Even with those two joining incumbents Victor Hedman, Ryan McDonagh, and Mikhail Sergachev, some additions are going to need to be made.  None of their minor leaguers are ready to make the jump on a full-time basis just yet so they'll likely have to look to either get a cheap rearguard as part of their cap dump(s) or look for bargains on the free agent market.  On top of that, it's likely that they'll look to add a veteran or two on two-way deals with an eye on having some recallable injury depth, similar to what pending UFA Cameron Gaunce was brought in for last summer.
Photo courtesy of USA Today Sports Images.