With the postseason down to just two teams, many squads are now well into their offseason planning.  What storylines lie ahead around the league in what is shaping up to be a likely busy NHL offseason?  Next up in our Offseason Keys series is a look at the Pittsburgh Penguins.
After an exit in the second round in 2018, Penguins GM Jim Rutherford opted to keep the core largely intact, believing that they still had another long playoff run left in them.  It was certainly a reasonable belief to have considering the talent that Pittsburgh has on their roster.  Rutherford wasn't rewarded for his faith, however, as they were swept at the hands of the Islanders in the first round.  Clearly, changes are coming to the status quo which are among the key items on their to-do list this offseason.
Murray Extension Talks
Last month, Rutherford indicated that his top priority was signing goalie Matt Murray to a long-term contract extension.  He's entering the final year of his bridge contract, one that carries a $3.75MM cap hit and will be in line for a raise on his next deal.
The big question will be how much of a raise he should get.  While Murray is the undisputed number one following the departure of Marc-Andre Fleury to Vegas two seasons ago, he hasn't been without his struggles since then.  He also has only reached the 50-game mark just once in his career and while there is certainly a trend towards lowering the workload for a starter, that number is still on the low side.
Accordingly, Murray is going to have a tough time commanding anywhere close to top dollar for a starting goalie.  But he'll still need to get enough of a raise to justify foregoing an opportunity to test the open market; he'll only be one year away from being eligible to do so next summer.  Finding the magic number to fit in with Pittsburgh's tight salary cap structure and still be enough to keep Murray happy on a long-term pact will be a tricky negotiation to navigate.
End The Kessel Speculation
It came out last season that the Penguins had engaged in trade talks regarding Phil Kessel but Rutherford tried to pour cold water on it at the time.  Fast forward to just one week ago when word leaked that a deal that would have seen him go to Minnesota was nixed when the winger invoked his partial no-trade clause.  Considering this and how things went for him in 2018-19, it's getting harder to envision him remaining with Pittsburgh.  It appears the time has come for a trade.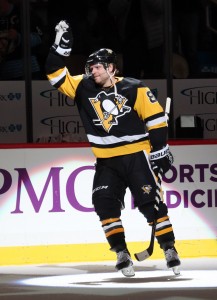 For as much flak as Kessel receives for his all-around game, there's no denying that he can be a significant difference maker offensively.  He reached the point-per-game mark for the second straight year and over the past three seasons, only ten players around the league have more points than the 244 he has picked up.  With Toronto paying 15% of his contract, his remaining $6.8MM AAV is certainly fair value for a top-line forward, if not a small bargain.
The challenge here though is not only going to be finding fair value for Kessel but also a place he's willing to go to.  His trade protection is fairly substantial as he only has to submit an eight-team list that he's open to being dealt to.  Assuming that not all of those teams will have interest (for varying reasons), that's a pretty small list for Rutherford to work off of.  Even with that, it looks like the two sides will be parting ways in the next little while.
Open Up Cap Flexibility
It's hard to talk about the Penguins without mentioning the salary cap and the annual tap dancing the team has to do to stay under it.  2019-20 figures to be no exception.  The team presently has just under $79.MM committed to 18 players for next season, per CapFriendly.   The minimum salary increases to $700K for next season so basically, they have enough to pay a few players the minimum and that's it.  That's not a lot of wiggle room to accomplish much of anything.
Things aren't much better for the year after that.  Their spending dips to $68.5MM but with only 14 players signed and Murray's new deal won't be a cheap one.  They'll also have to re-sign or replace a top-four defenseman in Justin Schultz at that time.  By the time they do that, they'll basically be down to league minimum signings again.
That's part of the reason that Rutherford has more of a willingness to shake things up.  He basically has no other choice.  It's hard to be a sustainable contender but it's even trickier when you're forced to merely add around the margins or match salaries in any trade you make.  As those changes to the core get made this summer, finding a way to get NHL-ready talent back will certainly be important but so too will be ensuring that those players are cheaper.  Rutherford has shown he can do a good job with minimal cap room to work with but more flexibility and options can only beneficial to them as they look to retool and get back into contending in the Metropolitan Division.
Photo courtesy of USA Today Sports Images.