The Dallas Stars have locked up a big part of their defense, signing Esa Lindell to a six-year contract extension worth $34.8MM. The deal carries a $5.8MM average annual value, and keeps Lindell in Dallas through the 2024-25 season. The deal also includes a full no-movement clause in the final four seasons. CapFriendly gives us the full breakdown:
2019-20: $6MM salary, $1MM signing bonus
2020-21: $4.8MM salary
2021-22: $5MM salary, $2MM signing bonus
2022-23: $5MM salary, $1MM signing bonus
2023-24: $5MM salary
2024-25: $5MM salary
GM Jim Nill explained why the team committed to Lindell:
Esa is a consummate professional who has proven himself dependable in every situation and is just an absolute workhorse. When you combine his strength, conditioning, hockey IQ and skill, he has become an integral part of this team. Along with John Klingberg and Miro Heiskanen, the three make up the foundation of a blueline that will not only be a strength for our club, but one that will be as good as any in the NHL for the foreseeable future.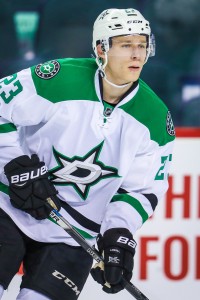 Lindell, 24, was scheduled to become a restricted free agent this summer but instead will be giving up several UFA years in his new deal. That is part of the reason why the contract's cap hit is such a big raise on the $2.2MM Lindell earned this season, but the Stars obviously feel comfortable committing that amount of money to him. They have good reason, as the young defenseman has turned into one of the premiere two-way players in the league and averaged more than 24 minutes a night this season for the Stars.
While Klingberg and Heiskanen are often asked to carry much of the offensive load, Lindell serves as a perfect complement that is able to compete at both ends of the rink. He was leaned on heavily in the defensive zone by head coach Jim Montgomery this season and easily led the club in penalty killing time, averaging more than three minutes a game shorthanded. Even with all that responsibility, Lindell still managed to set career highs in goals (11) and points (32) while suiting up in all 82 contests.
In the playoffs Lindell continued to shine, recording four points in 13 games for the Stars while averaging nearly 27 minutes a night. The 6'3″ defenseman is an elite shot blocker, is willing to engage physically and still can move the puck effectively to his more offensive teammates. That package sums up to an excellent player for the Stars, who have found their way back to Stanley Cup contention.
Lindell's deal though doesn't come without some risk. His $5.8MM cap hit puts him 26th in the entire league among defenseman and well ahead of Klingberg, who comes in at $4.25MM through 2021-22. Only Jamie Benn and Tyler Seguin are signed longer for the Stars, meaning any step backwards by the young defenseman could make his contract into a troubling one for the team. Still, that seems unlikely at this point for a player who has consistently improved since being drafted 74th overall in 2012.
Not only will he provide a legitimate top-4 counterweight to the right-handed Klingberg, Lindell also serves as a more experienced veteran for Heiskanen to look up to and rely on as he takes the next steps of his professional career. The two Finnish defenders will be manning the left side of the Stars' blue line for years to come, a luxury in today's NHL.
Photo courtesy of USA Today Sports Images