The Calgary Flames were unable to slow down the Colorado Avalanche last night, and it meant the end of their 2018-19 season. The team with the best record in the Western Conference were knocked out of the playoffs in five games, joining the Tampa Bay Lightning as top seeds knocked out in the first round. Plenty of the blame for the series loss can be laid at the feet of the forwards, who were able to record just eight goals in five games. Johnny Gaudreau's one-assist performance may be the talk of the town, but there is another huge situation to deal with for the Flames this offseason.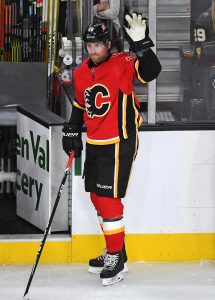 That would be James Neal, who was a healthy scratch in game five after failing to register a point in the first four while being a -3. Neal had an incredibly bad debut season in Calgary, registering just seven goals and 19 points through 63 regular season games. The amazing part is that coming into this year Neal was one of the few NHLers in history to record at least 20 goals through each of his first ten seasons, a stretch that showed off his incredible consistency. No, he likely wasn't going to repeat the 40-goal campaign he had in Pittsburgh in 2011-12, but one could reasonably expect 20 goals and 40 points from the veteran forward.
Instead, he dealt with that failure that had him out of the lineup for a game in which Calgary faced elimination.
Now the decision is a difficult one for the Calgary management group. Less than a year ago they committed $28.75MM to Neal over a five-year term, a contract that is evenly distributed throughout and includes no signing bonuses. Because of that structure, the notion of a buyout must immediately comes to the forefront of any discussion of Neal's future. If the Flames were to buy him out it would cost them more than $15MM in actual dollars, but impose just a $1.92MM cap hit on their books. Unfortunately that cap hit would extend through the 2026-27 season, making him quite an expensive mistake for one failure-riddled season.
There is also the trade route, given that the contract includes no protection in that manner. But who would be willing to take on such a large salary for a player who struggled so mightily this season? If the team were willing to retain some salary perhaps, but at that point a buyout may seem more reasonable given that they wouldn't be expecting much in return.
Lastly, there is the idea of hoping he can turn it around. Quite notably, Neal has been one of the most consistent shooters in the league over his decade prior to joining the Flames. His shooting percentage had never gone above 14.0% in a single (non-lockout-shortened) season, while never dropping below 10.4%. This season, that number dropped dramatically to just 5.0%. Whether that was a symptom of a declining game, weaker linemates or different deployment, there is a reasonable argument to be made that with a little more luck things might have not looked so rough.
The Flames meanwhile have some financial troubles heading their way given the long-term commitments they've handed out. The team already has nearly $70MM penciled in for next season, even without the big raise that is coming for Matthew Tkachuk and new contracts for others like Sam Bennett and Andrew Mangiapane. They also don't currently have a goaltender lined up, as both Mike Smith (UFA) and David Rittich (RFA) are heading to free agency. Getting out from Neal's contract somehow might be a necessary move for GM Brad Treliving this summer.
So what should Calgary do? Do they hold on and hope that 2018-19 was a fluke, and that Neal will be back stronger than ever next season to help them get back to the playoffs? Or do they move on through a buyout or trade in order to open up some cap space, and hope that he doesn't find his goal scoring touch somewhere else? Vote below and leave your thoughts in the comments.
[Mobile users click here to vote]
Photo courtesy of USA Today Sports Images