While the playoffs are now underway, many teams have already started their offseason planning.  What storylines lie ahead around the league in what is shaping up to be a likely busy NHL offseason?  Next up in our Offseason Keys series is a look at the New Jersey Devils.
After a surprising run to the playoffs last year, expectations were elevated in New Jersey for 2018-19.  However, injuries to key players and ineffectiveness between the pipes had them in the basement early on and they never really recovered.  They received one piece of good news last week as they were victorious in the Draft Lottery, moving up two spots to land the number one selection.  Who they take with that pick is one big decision they'll have to make; here's what else to watch for in New Jersey.
Add Defensive Help
This was on the list of keys last year as well but the Devils didn't make any defensive additions beyond Egor Yakovlev who was a player on the fringes of the roster and didn't make much of an impact.  Not surprisingly, their group struggled this season and multiple additions need to be made.
There are some decent young players in the system.  Damon Severson has established himself as a top-four option while Will Butcher has shown some offensive skills.  2018 top pick Ty Smith could push for a roster spot as soon as next season and will certainly be a part of their long-term core.  Beyond those three, there are some question marks.
To make matters worse, both Sami Vatanen and Andy Greene sit a year away from unrestricted free agency.  It's plausible that if extension talks don't go anywhere with Vatanen that he could be on the move some point next season.  Greene has only ever played in New Jersey and he could certainly sign to stick around for another year or so but he'll be 37 at the end of October so he's not a long-term option.
There has been a need to add a top-four blueliner for a while.  If they want to get back to contending for a playoff spot, they'll at least need to add one this summer and could certainly stand to add a second one.  If not, shoring up their depth and bolstering their third pairing will be necessary.  The 2018 offseason was quiet in terms of adding defensemen.  The 2019 summer can't be.
Extension Talks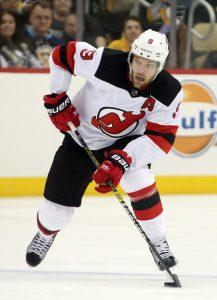 Although he won't be repeating as the Hart Trophy winner in 2019, a long-term contract extension for winger Taylor Hall is undoubtedly at the top of the priority list for the Devils this summer.  While he wound up missing the final 47 games of the season due to a knee injury, he was averaging his second-best point per game average of his career at the time (1.12, only trailing the 1.22 he had the year before).
Needless to say, the 27-year-old will be in line for a significant raise on his current $6MM AAV.  While a deal officially can't be signed until July 1st, expect the two sides to have had significant discussions before then.  If it appears that a deal can't be reached or Hall suggests he'd like to test free agency in 2020, the Devils will likely be forced to turn around and trade him.  If that was to be the case and the right package was to present itself around the draft, Hall would at least be a player to watch for.
2017 top pick Nico Hischier is also eligible for a contract extension in July.  He has had a decent showing through his first two NHL seasons although not quite at the level that some of his counterparts from previous drafts have had.  Accordingly, his contract isn't going to be near the level of extensions that players like Connor McDavid and Auston Matthews, the two prior number one picks, had.  However, given the expectation that the post-ELC marketplace is going to change considerably this summer with so many top players in need of new deals, GM Ray Shero may want to try to get a deal with Hischier done first before the salaries really start to escalate.
Determine Zacha's Future
This was also on the list of keys last year as well and not a whole lot has changed since then when it comes to Pavel Zacha.  A hot finish to the season when the team was well out of contention allowed him to equal his career high in points.  However, that only meant that he hit the 25-point mark.  For a center picked sixth overall back in 2015, that's not very good.
Hischier has staked a claim to the top center spot.  Projected number one pick Jack Hughes will likely one day ascend to that spot and should move past Zacha on the depth chart in no time.  Travis Zajac still has two years left on his deal and he isn't likely going anywhere.  John Quenneville could push for a full-time roster spot next season and Michael McLeod, another former first-rounder, is in the mix as well.  Long story short, there isn't a place in the lineup for Zacha at his natural position.
While it's possible that he could move to the wing, doing so could potentially further devalue him around the league, especially if he isn't productive.  Having said that, they clearly believed in his offensive upside when they drafted him so they could believe there's another level or two to his game.
Zacha will no longer be waiver-exempt next season so if he's a bubble player in training camp, this could become a storyline pretty quickly.  If Shero expects to make a few additions up front this summer, Zacha's spot could be in jeopardy pretty quickly.  Is he still a core part of their future?  If the answer is no, they may be best served to try to trade him this summer rather than potentially being forced into that situation in September or October.
Photo courtesy of USA Today Sports Images.