The Calgary Flames were handed their golf passes in the playoffs after just five games against the Colorado Avalanche, but it wasn't for the reasons many speculated on heading into the postseason. For much of the year the team had been dealing with goaltending issues, and when they handed the reins in game one to Mike Smith and his .898 save percentage it was easy to see a way that the top seed in the Western Conference could crumble.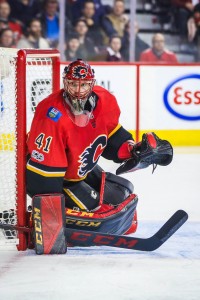 Instead, Smith posted a 26-save shutout to open the series and was one of the team's best players throughout. While he allowed 17 goals across five games, he kept them alive as the team routinely gave up huge shot totals meaning Smith actually finished the playoffs with a .917 save percentage. The 37-year old is scheduled to be an unrestricted free agent this summer, and today was asked at his final media availability whether he'd consider a return to the Flames. Smith told reporters including Pat Steinberg of Sportsnet that he would "for sure" like to return to Calgary if possible, noting that he loves being part of an organization committed to winning.
Looking at Smith's history in the league, it's easy to understand why he enjoyed this playoff run even with the unfortunate outcome. The veteran goaltender has only suited up in three playoffs over his long career, reaching it once with the Tampa Bay Lightning in 2011 and once with the then-Phoenix Coyotes in 2012. Incredibly, he has a .938 save percentage over his 24 postseason appearances, thanks mostly to that outstanding run to the Western Conference Final he took the Coyotes on.
The question will be whether the Flames have room for Smith on the roster. The team doesn't have a clear answer to the situation in net, and currently head into the offseason with just Jon Gillies, Tyler Parsons, Nick Schneider and Artyom Zagidulin under contract for next year. David Rittich and Mason McDonald remain under control as restricted free agents, but none of those names seem to make up a tandem worthy of a Stanley Cup contender.
There are other big decisions to make this summer including new contracts for Sam Bennett and Matthew Tkachuk, but also where to go with a defense that was carved up by the speedy Avalanche forwards. T.J. Brodie, Travis Hamonic and Michael Stone all have just a single year left on their contracts, while younger options are pushing for more ice time. Smith will likely have to wait until after some of those decisions are made, given that he can't be the full-time starter again next season if they have plans on advancing further than this year. Even with his surprisingly good performance, something needs to be done to fix the Calgary net.
Photo courtesy of USA Today Sports Images