The Vegas Golden Knights came into existence last season with almost no long-term commitments. It was obvious from their expansion draft strategy that they were after as much flexibility as possible, and selected several players with expiring deals. Now just two seasons into their history that has completely changed, with long-term extensions handed out like candy for their core pieces. Mark Stone, Reilly Smith, Jon Marchessault, Max Pacioretty, Alex Tuch, Shea Theodore, Colin Miller, Brayden McNabb, Nate Schmidt and Marc-Andre Fleury are all signed through at least 2021-22, and there soon could be another name to add to that group.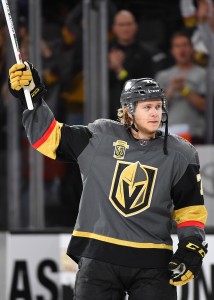 William Karlsson, the breakout star of the Golden Knights' inaugural season, is scheduled to be a restricted free agent for the final time this summer and is arbitration eligible once again. Karlsson told David Schoen of the Las Vegas Review-Journal that he had some preliminary talks with the team before the playoffs and that he hopes to sign a long-term deal with Vegas. If Karlsson went to arbitration the process would only be able to award him a one-year contract, taking him to unrestricted free agency in the summer of 2020.
There were some who expected the Golden Knights to lock up Karlsson last summer, but their decision to wait seems to have paid off. The 26-year old forward could not replicate the 43-goal campaign he had in 2017-18, and finished with just 24 goals and 56 points this season. While that was still good enough for second on the team in scoring, Karlsson is in a much different place when heading into negotiations.
It was always expected that Karlsson would experience some regression, given the mind-boggling 23.4% shooting percentage he enjoyed in 2017-18. His previous high for goals had been just nine in a full season, but a move to Vegas has turned him into a much more effective offensive player. He also won the Lady Byng award last year, and received votes for both the Selke and Hart trophies.
That outstanding season turned into a one-year $5.25MM contract for Karlsson, a contract that will have an interesting effect on his next deal. UFA seasons usually cost more to buy out in long-term deals, meaning any multi-year contract will be an expensive addition to the Vegas salary structure. How that can fit in isn't totally clear, given the some $82MM that the team has already committed to next year. That total doesn't include new deals for Nikita Gusev or Jimmy Schuldt either, though it's not clear how expensive they will be after burning through their entry-level deals without really playing.
The Golden Knights have quickly put themselves in a tricky financial situation, and one that may result in the team moving out a player or two as a cap casualty. It would have been difficult to see that coming a few days after the draft, but GM George McPhee has been aggressive in acquiring the talent to make his team a Stanley Cup contender right away.
Photo courtesy of USA Today Sports Images