The moves the Blue Jackets made at the trade deadline were the talk around the NHL and are discussed in this edition of the PHR Mailbag as well as Arizona's recent run, the Seattle expansion draft, Boston's lineup, Alexander Radulov's benching, and the current postseason format.
As we've done with recent mailbags, questions not answered here will appear in our next mailbag next weekend.
sixfootnineballerina: What do you think the fallout would be like if the Blue Jackets suffer an early exit or miss the postseason entirely after giving up so many future assets and holding onto their pending UFAs?
First things first, I want to comment on GM Jarmo Kekalainen's strategy in general.  I get the desire to go for it and really respect it, as bad of an idea as I think it was.  As a whole, what they gave up for Matt Duchene and Ryan Dzingel wasn't over the top by any stretch.  But these moves aren't going to vault them into Stanley Cup contention so at best, we're talking about winning a couple of rounds.  I know they haven't won a playoff series before so that's worth more to them than most but at the same time, is making it through a couple of rounds going to magically entice Artemi Panarin to re-sign?  Probably not.
As for the fallout from an early exit or missing altogether, Kekalainen likely would be shown the door as would head coach John Tortorella if he isn't gone already by the end of the year.  If they fall any further in the race, I have to think a late-season coaching change could be in the cards.  They're all in so why take the cautious route now?
From a long-term perspective, I don't think it changes their fortunes too drastically though.  Win or lose, they're probably heading for a soft rebuild unless they wind up being big players in free agency which is something that simply hasn't happened often in their history.  A good or bad showing probably isn't changing the view of that team in the eyes of players around the league.  They've moved some of their top assets for this run so big offseason moves to replenish their NHL talents aren't likely in the cards.  Either way, some tough times are probably ahead.
therealscyie: Despite being three points out of a playoff spot right now, do you think if the Coyotes make the playoffs, is it a possibility that Rick Tocchet could be considered for the Jack Adams award? Or is John Cooper and Barry Trotz so far ahead that the third nominee is gonna be Bill Peters?
Considering the injuries they've had (both in terms of quantity and the quality of players they've missed), he should be considered at the very least if they can get there.  Oddly enough, they've been better than they were when some of their players were healthy which is a testament to what Tocchet and his staff have done thus far.
That said, I think this is Trotz's award to lose.  The Islanders were a popular pick to be in the basement in the Metropolitan Division after their offseason and instead, they find themselves battling for the top spot.  That has to make him the contender even though Cooper's Lightning have been the class of the league all season long.  Peters will pick up a few votes so as well as Tocchet has done (and he deserves a lot of credit for their recent play), he's probably not going to be in contention for the award.
pawtucket: What are the rules for the expansion draft – re games played to count towards the 'needs protection' list? I'm seeing all these signings from the NCAA and Europe and wondering what will happen if they burn a year this year and the expansion draft in 2 years…
We're in uncharted waters here with this situation as the Vegas expansion situation didn't have this long of a timeline to work with.  As a result, there seem to be more questions than answers at this point with some contradictory information out there and not many NHL staffers have spoken on the record so far.
However, earlier this year, Mathias Brunet of La Presse was able to shed some light on the situation after speaking with someone with Montreal's front office.  While they were discussing Ryan Poehling's situation in particular (Cale Makar is also in the same boat with regards to timing for signing age for waivers versus actual contract timing – 19 vs 20), it was noted that a player signing an ELC late this season could play ten games without being expansion-eligible.  It was also reported that there was an adjustment to the CBA in anticipation of the Seattle draft and while the specific change isn't specified in that article, my inclination is that it is a proration of the 40-game rule that is used for the purposes of reaching an accrued season.  They did that back in 2012-13 (Exhibit 16, heading nine of the current CBA) so it's not unprecedented.
For me, the concern is more with the younger college players than the upcoming college free agent market as even if those players were to become expansion-eligible, if a team wound up losing whoever they signed to Seattle, they'd probably call that a win at this point as it would mean the rest of their team is intact.  As for the European market, unaffiliated players signing to play now would need entry waivers so there shouldn't be any activity on that front in the weeks to come and anyone that signs after the season would be exempt.
sovietcanuckistanian: Bruins fan here – when David Pastrnak comes back and assuming the Bruins are playing the kind of hockey they have been since he's been out – do they reunite the 'Perfection' Line (to give teams more to plan for in playoffs) or do they try and spread the wealth a little better/more since they are doing well despite his not being around? Thanks in advance.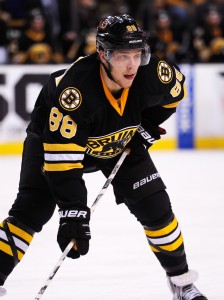 Boston finds themselves in a pretty good spot right now.  It's pretty much certain that they know they're facing Toronto in the first round barring one of those teams going into a very long losing streak (and even then they'd still probably be the two/three seeds).  That makes it the perfect time for trying things.
Everyone knows that when Boston's top line is together, they're really good.  Even if they're apart for a few weeks upon Pastrnak's return, the chemistry they've shown over the last few years is still going to be there if they need to reunite the trio for the postseason.  So what really is there to lose to put him on a different line?
The remaining games for the Bruins over the next month are basically glorified practices with so little at stake.  (Yes, there's home ice advantage at play but Boston has some wiggle room at the moment.)  It's the perfect time to see how Pastrnak fares away from his usual linemates in case they need to split the big line up during the playoffs to spread out the scoring.
@Habsfanaticfla: if a player like Radulov misses a team meeting and then sits out a game is he still paid for the game?
Teams can choose to suspend a player without pay for violation of team rules, conduct detrimental to the team, etc so that option is there although the player or the NHLPA could elect to grieve it if they wanted.  That's not what happened earlier this week in the case of Radulov though.  The Dallas winger was simply made a healthy scratch which is the disciplinary method of choice for teams when it comes to missing or being late for a team meeting for a single instance.  Healthy scratches are still paid their full daily salary.
If it happens more frequently, that's when a team may elect to do the suspension without pay or fine as that's a higher step on the disciplinary ladder.  However, most of the time, the public embarrassment of being a healthy scratch for missing a meeting (or being late) is usually enough to curb the issue right then and there.
Mr. Mark: When is the league going to get rid of this ridiculous playoff format? Last year the top two teams in the league, Winnipeg and Nashville had to play in the second round and could happen again this year with Tampa and Boston or Toronto.
I don't think there's much appetite from the Board of Governors to make the change.  They discussed plenty at their recent meetings and the playoff format wasn't among the big topics discussed.  This was largely put in place to reinstate some divisional rivalries and for all of the flaws this current system has (and pitting the top teams against each other early is right up there), it appears to be well on its way to doing just that.
The regular season can sometimes be a drag and under the old system, the divisions didn't mean a whole lot.  Their hope is that with this system, the rivalries that will develop from frequent postseason matchups will create some better drama during those dog days.
Personally, I'd be pleased with bringing back the old system.  With only two divisions instead of three, there won't be any instances anymore where a division winner from the weak division gets a higher seed like there was in the past.  Divisional success means something but so should finishing first.  The current system isn't really rewarding that.
Photo courtesy of USA Today Sports Images.