Every year as the trade deadline approaches, teams have more than just swaps on their mind. In order to know exactly what you can go after to push yourself to the playoffs, you need to know how much available cap space you have going forward and what core pieces are locked up long-term. Even teams out of the playoff race have to push to get deals done, or else might end up having to trade an expiring asset. Long-term extensions often happen in the weeks leading up to the deadline, and last season was no different. Consider these deals that were all signed in February 2018:
Lars Eller, Washington Capitals – Five years, $17.5MM
Mikael Backlund, Calgary Flames – Six years, $32.1MM
Erik Gudbranson, Vancouver Canucks – Three years, $12MM
Josh Bailey, New York Islanders – Six years, $30MM
Patric Hornqvist, Pittsburgh Penguins – Five years, $26.5MM
It comes as no surprise then that nearly as many headlines are currently dominated by extension talk as by trade talk. In Ottawa, the Senators are desperately trying to get some indication of whether they can keep Matt Duchene and Mark Stone around long-term, or else will be forced to trade both of them. The Columbus Blue Jackets don't seem to be getting any such indication from Artemi Panarin, but will likely hold on to him anyway given their intention to compete for the Stanley Cup. The San Jose Sharks are in a similar boat with Erik Karlsson, but also can't even sign him to an eight-year extension until after the deadline passes.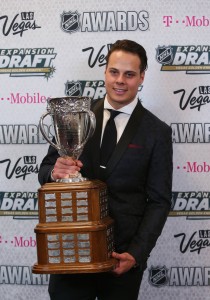 Perhaps the biggest headline generator recently (as they often are) were the Toronto Maple Leafs, whose GM Kyle Dubas told media that the team had made progress on an Auston Matthews extension. While insiders quickly noted that progress in this case did not mean a deal was imminent, there is some reason to believe that Matthews could be one of these February signings.
First of all, the Maple Leafs are another team within striking distance of the Stanley Cup or at least a high playoff seed. Dubas knows that they could compete this season, and getting Matthews under contract gives him more information to make any other trade deadline decisions. Second it would make the summer a lot less stressful, given that the front office also has to deal with new contracts for Mitch Marner, Kasperi Kapanen and Andreas Johnsson, while also filling the hole left by pending UFA Jake Gardiner. Each of those contracts will take some work, and the Maple Leafs certainly don't want them to extend into the season again like William Nylander's negotiation did.
It might be easy to say hand over a blank check to Matthews and let him join the league's elite with an eight-year extension that pays him more than $10MM per season. Not so fast, according to Elliotte Friedman of Sportsnet, who writes that both the team and Matthews' agent Judd Moldaver "see an eight-year deal as extremely unlikely." The reasoning would be that the Maple Leafs can't afford to buy out that many UFA seasons given how tight their cap will be going forward. Instead, suggests Friedman, the deal will be for five or six years, buying out just one or two free agent seasons in order to keep the cap hit relatively low.
In reality it actually might be the better move for Matthews too. Though an eight-year deal would certainly put him into the upper echelon of NHL earners immediately, it likely wouldn't stay that way throughout the entire deal. With the salary cap set to increase again next season and CBA talks potentially changing the salary cap rules at some point down the line, Matthews could be overtaken by less talented peers in the years to come. If he truly believes in his talent—and nothing in his career path to this point suggests he does not—signing his next massive contract after five more seasons makes total sense. Remember that the Maple Leafs center won't turn 22 until September, meaning he would exit a five or six year deal still in his prime.
While this kind of a deal might make sense for both the Maple Leafs and Matthews, it will be interesting to see whether other teams follow the same path. The Tampa Bay Lightning for instance have a brilliant young center of their own scheduled to hit restricted free agency in Brayden Point, and face similar cap crunch issues moving forward. If Point would be interested in a five-year deal of his own there could be benefits for both sides, though like Matthews it would put him at risk of leaving as a free agent a few years earlier.
If the Maple Leafs are to go after any player with term left on his contract, they need to get some certainty over what kind of cap hit Matthews will bring moving forward. That means Dubas might not be watching his phone waiting for another GM's number to pop up over the next few weeks, but rather that of Moldaver.
Photo courtesy of USA Today Sports Images