A topic of speculation for years around the hockey world has been offer sheets and how teams could use them as predatory strikes against rivals, driving up cap hits or attempting to steal their best players. One team in particular that is targeted with hypothetical situations is the Toronto Maple Leafs, who have heard that just about every team in the league is preparing to sign both Auston Matthews and Mitch Marner to offer sheets this summer. The Maple Leafs are in a tricky financial situation after signing William Nylander and John Tavares to expensive long-term deals, meaning it would be tough for them to match the lucrative offers some other franchises could wave in front of their other young stars.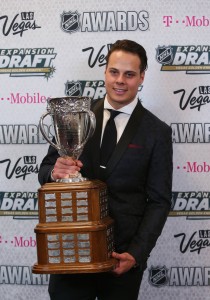 There are so many barriers before anything like that actually happens though, and one of them is simply the Maple Leafs signing Matthews or Marner to a long-term extension before they even reach restricted free agency in the first place. Though that won't take place with Marner, whose representatives have made it clear they will wait until after the season to start negotiating, it very well may happen with Matthews. Today, when speaking with reporters in Toronto including Chris Johnston of Sportsnet, GM Kyle Dubas explained that the team has "made progress" on an extension for their explosive sniper. Dubas would like the deal done before the trade deadline if possible.
Matthews, 21, is having another fantastic season for the Maple Leafs with 20 goals and 42 points in 34 games. Though he missed a fair chunk of time earlier in the year—and is in something of a slump at the moment—he's still poised to have quite the resume when discussing any long-term extension.
When Connor McDavid signed his record-setting eight-year $100MM extension in 2017, he had just 148 points in 127 games. McDavid had missed nearly half of his rookie season with injury, but was fresh off an 100-point year and a pile of individual awards. Jack Eichel meanwhile had just 113 points in 142 games when he signed his eight-year $80MM extension with the Buffalo Sabres, who were betting on his potential more than his production in the early part of his career. He too missed games as a sophomore, and didn't have quite the lofty statistics that McDavid had recorded.
Matthews then may fall somewhere in the middle given what he's done so far. The Toronto center has 174 points in 178 games including a 40-goal campaign and Calder Trophy as a rookie in 2016-17. He ranks seventh in goals since the start of that season with 94, despite averaging fewer than 18 minutes a night over that span.
The salary cap has gone up since McDavid and Eichel signed their contracts though, meaning the same percentage would be worth more if Matthews were to sign today. For instance, if he matched the same 13.33% that the Sabres gave to Eichel, Matthews' deal would come in around $10.6MM per season going with this year's $79.5MM cap. That would seem to be his floor, though the Maple Leafs will surely try to get him in at the lowest possible number.
Toronto already has an $11MM player in Tavares, and very well could have two more eight-digit earners in Matthews and Marner next season depending on how negotiations go. That kind of commitment to a handful of forwards will put a strain on the rest of their roster, especially given that young players like Kasperi Kapanen and Andreas Johnsson are also set to hit restricted free agency. Getting Matthews under contract as soon as possible will give the front office more time to figure out how everything is going to work, and decide whether or not they can actually acquire a player with any kind of term at the upcoming trade deadline.
Photo courtesy of USA Today Sports Images