As the holiday season approaches, PHR will take a look at what teams are thankful for as the season heads past the one-quarter mark. There also might be a few things your team would like down the road. Let's take a look at what's gone well in the early going and what could improve as the season rolls on for the Carolina Hurricanes. 
What are the Hurricanes most thankful for?
Various struggles from the entire Metropolitan Division.
Big things were expected out of the Carolina Hurricanes after some bold moves in the last calendar year, including new ownership, front office and coaching staff. Key players like Jeff Skinner, Elias Lindholm and Noah Hanifin were all shipped out while fresh faces like Andrei Svechnikov and Dougie Hamilton joined the lineup. Even with all of that and a nice five-game point streak to start the year, they finished their first 15 games with a 6-7-2 record caused by many of the same stumbling blocks they'd experienced in the past.
Goaltending wasn't as good as it needed to be, the solid defensive group was underperforming and the team wasn't scoring enough despite excellent shot metrics. They've since gone on something of a hot streak, winning six of their next nine and head into their last game of November with a 12-9-3 record. That's not outstanding, but it's certainly good enough to keep them in the hunt at this point of the season. Every other team in the Metropolitan Division has experienced their own struggles, including the Pittsburgh Penguins who at one point found themselves at the very bottom of the division. Carolina now sits just four points behind the Washington Capitals for top spot, something that would have seemed impossible during the previous dominant Metropolitan years.
Who are the Hurricanes most thankful for?
There's no doubt that Sebastian Aho has been the team's early MVP, recording 25 points in 24 games to pace the offense while moving to the center ice position without any trouble. Aho is an exceptional talent that looks like he can be a true superstar for the Hurricanes, but he was drafted and developed by the team. Who they're truly thankful for, is McElhinney who dropped into their laps just before the season started when the Toronto Maple Leafs placed him on waivers.
Though he has looked shaky at times, McElhinney has been everything the Hurricanes could have hoped for when they picked up for free to help out while Scott Darling dealt with injury to start the year. The 35-year old goaltender now has a .930 save percentage through his nine appearances and leads the trio of Carolina goaltenders with a 7-2 record. Seeing how Darling and Petr Mrazek have combined for an .887 save percentage and 5-7-3 record, it's easy to see where the team would be without McElhinney on the roster.
What would the Hurricanes be even more thankful for?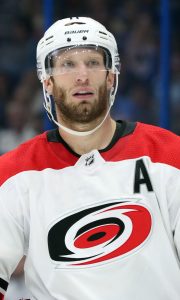 A resurgent Jordan Staal.
Despite Aho moving to the middle and performing admirably, the center position has still been a struggle for the Hurricanes this season. Victor Rask has only played four games because of a kitchen accident that injured his hand, and Lucas Wallmark can't seem to find the back of the net to save his life—his 1.9% shooting percentage is one of the worst in the league among regular forwards. Even accepting those issues as flukes that could resolve themselves, the issue of Staal may have the biggest impact.
The 30-year old center has just 11 points in his first 24 games of the season and is on pace for his lowest total (38) in a full season since he was 19. A huge part of that is his lack of powerplay production, where he has just a single assist and no goals despite averaging more than two minutes with the man advantage. It's not that Staal is a net negative for the Hurricanes, as his defensive ability is still excellent and he's among the best in the league at faceoffs, but they absolutely need more offensive production from him given his price tag. Staal carries a $6MM cap hit this season, and will continue to do so through the 2022-23 season.
What should be on the Hurricanes' Holiday Wish List?
Forward help, in one way or another.
Since they're already carrying three goaltenders, one of whom makes more than $4MM per season and is under contract for another two years, there seems little chance of the Hurricanes making a big splash in net. Accepting that, the best place for them to upgrade would be up front, whether that's on the wing or at center. The team has been generating more than enough scoring chances through the first quarter of the season, but with the exception of Micheal Ferland and his 11 goals, they haven't been able to convert nearly enough.
It sounds funny after an offseason in which they sent Jeff Skinner packing—the red-hot Buffalo Sabres forward has 19 goals in 25 games—but Carolina could really use a pure finisher to help them on the powerplay and give their forward group a little more swagger. Svechnikov looks like he might eventually become that, but relying on an 18-year old to take a jump like that in the second half of the season is more than a little risky. They don't need another Alex Ovechkin—though, they certainly wouldn't turn one down—but someone to complement their stable of playmakers could go a long way in pushing them further along in the playoff race.
Photo courtesy of USA Today Sports Images