The Anaheim Ducks have decided it's time to shake things up, trading iron man Andrew Cogliano to the Dallas Stars in exchange for Devin Shore. The deal includes no other assets or retained salary.
It's not surprising that the Ducks' front office has decided something needed to change, given the 11-game losing streak they are currently experiencing. Anaheim was once safely in the playoff picture in the Western Conference, but have plummeted down out of the race in the Pacific Division and find themselves grasping for anything to keep them afloat. Whether this is the first move in a fire sale or just one to try and spark some offense isn't clear, but they'll head into the second half of the season with a new face on the ice.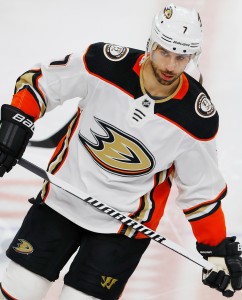 Not only do the Ducks get younger in this transaction, but they'll also add some extra depth down the middle with the 24-year old Shore. With 17 points this season he's on pace for basically the exact same offensive season he's had the past two years when he recorded 33 and 32 points for the Stars. It's hard to imagine there is a lot more upside there, but perhaps a fresh start in Anaheim will spark the second-round pick. He hasn't played center regularly since 2017, but could potentially see time there on an Anaheim team that has struggled to stay healthy down the middle.
In Cogliano, the Stars are receiving a depth option of their own to plug into the middle part of their lineup. The 31-year old has just 11 points on the season but still skates extremely well and can add value on the penalty kill. Dallas GM Jim Nill explained as much in a released statement:
In acquiring Andrew, we are able to add a conscientious player who brings a veteran-presence to our room. His explosive speed, 200-foot game and iron-man mentality will help our team both on and off the ice.
That mentality helped Cogliano reach the fourth-longest games played streak in NHL history earlier in his career when he suited up for 830 consecutive games. A suspension broke that streak, leaving him still without a single game missed due to injury in his 12-year career. There's no doubt that Cogliano will be able to add some consistency to the Dallas lineup, but there is also no shortage of risk in a deal of this nature.
While Shore is under contract for one season after this one at a cap hit of $2.3MM before becoming a restricted free agent, Cogliano is still working on a deal that extends through 2020-21. That contract was signed almost exactly a year ago, and carries a $3.25MM cap hit. The Stars have plenty of cap room going forward after Jason Spezza's deal expires at the end of the year, but if Cogliano can't turn things around and contribute at least a little bit offensively he could represent a quite overpaid asset. His 11 points puts him on pace for the worst season of his entire career.
Overall, this is a swap between two teams looking for answers. Neither has lived up to the lofty expectations many placed on them, and though Shore and Cogliano are not game-changing talents, a fresh start could invigorate both. It will be interesting to see if the Stars get Cogliano up to speed quickly enough for him to appear in tomorrow's game, and not risk missing just the third contest of his career.
Photo courtesy of USA Today Sports Images