The volume of trade activity started to pick up late in the week but the most notable move was a swap of depth defenders between Tampa Bay and Chicago.  Accordingly, the top stories of the past week aren't trade-related.
Schmaltz Out For The Year: Arizona has had nothing but brutal luck when it comes to injuries in 2018-19 and that trend continued with the announcement that center Nick Schmaltz is out for the rest of the season due to a knee injury.  He was acquired from Chicago in late November and had fared well with his new team, picking up 14 points in 17 games before the injury.  Schmaltz, a pending restricted free agent, joins goalie Antti Raanta, center Christian Dvorak, and defenseman Jason Demers as core players that are already out for the year which will make it tough for them to close the four-point gap on the final playoff spot in the West.
DeSmith Extension: It's clear that goaltender Casey DeSmith likes it in Pittsburgh.  Through the first half of the season, he has posted some impressive numbers and was shaping up to be one of the more intriguing goalies to hit the open market in July.  However, he has decided to stick around, inking a three-year, $3.75MM extension to remain with the Penguins, a deal that appears to be well below market value already.  The deal means that Pittsburgh will have just $5MM allocated to their goalie tandem for next season, a price that's below what most number one netminders alone are being paid.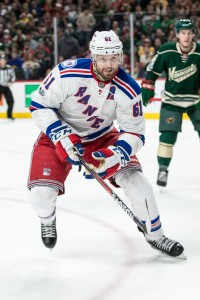 Nash Retires: Winger Rick Nash was one of the top players available in free agency last summer (he was rated sixth on our top-50 list) but opted to hold off on signing as he was still dealing with concussion symptoms.  While some teams were holding out hope that he'd sign later this season, Nash has instead called it a career as after consulting with his doctors, the risk of further injury to his brain was far too significant to continue playing.  The top pick back in 2002 was a top goal scorer in the prime of his career and winds up his playing days with 437 goals and 368 assists in 1,060 regular season games between the Blue Jackets, Rangers, and Bruins.  He also was a prominent player on the international stage, suiting up in three Olympics with Canada as well as four World Championships where he ranks third all-time among Canadians in goals with 23 in just 34 games.
Bobrovsky Incident: To say it hasn't been the smoothest of seasons between the Blue Jackets and goaltender Sergei Bobrovsky would be putting it lightly.  Things continued in that direction when the team announced that the netminder would sit out Thursday's game due to an incident in which he failed to meet the expectations and values of the teams' culture.  Bobrovsky is a pending unrestricted free agent and projects to be the top goalie available this summer but this incident has led some to speculate that he could be a trade candidate in the coming weeks as well but he would have to waive his no-move clause for any move to happen.
Hurricanes, Ferland Far Apart In Contract Talks: Winger Micheal Ferland is off to a strong start in his first season with the Hurricanes and is on pace for career highs across the board offensively.  The timing of this is perfect for him as he's slated to become an unrestricted free agent this summer.  There have been early contract talks but so far, the two sides aren't anywhere close to a deal.  His cap hit is just $1.75MM this season which is affordable for any contending team making him a prime candidate to be dealt if they can't find common ground in the coming weeks.
Photo courtesy of USA Today Sports Images.