The Toronto Maple Leafs went through a long and tough negotiation with William Nylander over the last six months, which cost the young forward the first two months of the season. Though the team obviously did fine without him, Nylander is still working his way into game shape even as the holiday season arrives. That's not a situation GM Kyle Dubas wants to deal with again, and today he explained that the team will try to avoid it with both Auston Matthews and Mitch Marner. The dynamic duo are scheduled for restricted free agency for the first time this summer, but are able to sign long-term extensions at any time. Dave McCarthy writes for NHL.com that Dubas hopes to have deals done long before July 1st:
We do want to avoid the situation we were just in (with William Nylander). It would be our intention well before July 1st that we have an agreement and both players are here long term. One way or another, we'll get to that point.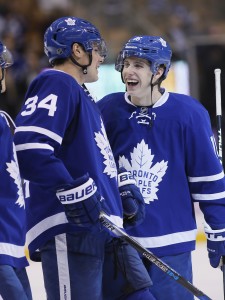 Getting deals done with Matthews and Marner over the next few months would certainly give the team some cost certainty as they head into the next phase of their competitive window. Toronto currently has a large amount of available cap space thanks to the entry-level performances from Matthews, Marner and others like Kasperi Kapanen, Travis Dermott and Andreas Johnsson, but that won't last very long. Four of those five players will be restricted free agents this summer—Dermott is the lone one under contract through 2019-20—though still have strong negotiating leverage with most of them. Only Johnsson is arbitration eligible, meaning that once the offseason began the two sides would have plenty of time to work through the process.
One of the reasons for getting it done before the offseason begins though would be the threat of an offer sheet, something that has come up repeatedly over the years despite the almost complete lack of them actually being put into practice. Dubas addressed that issue too, saying that he spends "zero percent" of his day worrying about the threat of an offer sheet and explaining that the Maple Leafs salary system is well set up to defend against one. An offer sheet for Matthews or Marner would almost certainly require a team to risk four first-round picks, but Toronto would also still have the ability to match any signed contract.
Interestingly though, getting deals done with Matthews and Marner before the end of February could be an appealing plan for the Maple Leafs. The team has recently been rumored to be interested in adding some help on defense, but it's hard to know exactly how much cap room they will have going forward. That may limit the team to acquiring short-term or rental options instead of investing in a more permanent solution, unless they can find one at a very reasonable cap hit. The same applies to "own-rental" Jake Gardiner, who is scheduled to become an unrestricted free agent but plays a huge role on the Maple Leafs currently. The team has been open for some time about their interest in re-signing Gardiner, but he may want to test the open market given that he would almost certainly be able to secure more money away from Toronto.
With Nylander done, the Maple Leafs have been busy over the last few weeks tying up some loose ends. Trading Josh Leivo, Adam Cracknell and Jeff Glass, while signing Calle Rosen to an extension and getting Ian Scott to sign his entry-level contract. Those are all relatively unimportant moves compared to the big ones left to come, and it's obvious that the team would like to get long-term deals done as soon as possible.
Notably, Jonas Siegel of The Athletic also released a profile of Marner today (subscription required) which contains several interesting quotes from his family. That has already made waves with a fan base that is still a bit tender from the long Nylander negotiation, and hoping their other two stars will be locked up without a fight. We'll have to wait and see if that's possible for Dubas and the Maple Leafs' front office, or if they will have to head into the summer months with some huge tasks still in front of them.
Photo courtesy of USA Today Sports Images