After the Toronto Maple Leafs finally were able to sign William Nylander, it created a roster crunch for their NHL group. One forward needed to be sent out, and with no obvious waiver-exempt options the front office turned to the trade market to see if they could get a deal. A deal they did get, by sending Josh Leivo to the Vancouver Canucks in exchange for Michael Carcone.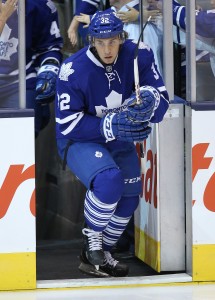 For Leivo, even though a trade takes him away from the powerful Maple Leafs and to a new, unfamiliar organization, it is probably a welcome result. The 25-year old forward has been battling for years to try and make an impact on Mike Babcock and the Maple Leafs coaching staffs, only to find himself in the press box more than on the ice. Originally selected 86th overall in 2011, Leivo has played just 84 NHL games to this point in his career, spending more than that as a healthy scratch throughout the years. The last time he even had any substantial time in the minor leagues was 2015-16, when he was nearly a point-per-game player for the Toronto Marlies.
In the NHL, Leivo has produced 28 points in those 84 games and too rarely shown that he has the versatility to contribute in a bottom-six role. That's all he was going to get in Toronto given their other young forward talent, but he never really grew into the type of player that Babcock wanted on his fourth line. Instead, his ice time was extremely limited even when he did get into the lineup, although he was given time on the second powerplay this season.
Vancouver will likely attempt to coax every bit of offensive potential out of Leivo, using his big body and hard, powerful shot to create a mismatch alongside some of their smaller forwards. If they can get any production out of him the deal will be a win for them, given that they only sacrificed an undrafted minor league forward.
Toronto was in a tough spot and was likely heading for a situation where they would lose Leivo or someone else to waivers anyway, so they accepted Carcone to at least get something in return. The 22-year old had a great season in his final year of junior with the Drummondville Voltigeurs, but has had middling results in the AHL so far. That changed early this season with 17 points in his first 20 games, but there is still a long road ahead of the undersized forward if he's ever to make the NHL.
Photo courtesy of USA Today Sports Images